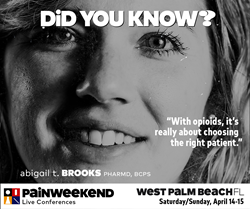 The decision to engage in opioid therapy is really about choosing the right patient after failure of other first-line modalities. ...practitioners need to be ready with alternatives, both nonopioid pharmacologic agents and nonpharmacologic treatments
MONTCLAIR, N.J. (PRWEB) March 22, 2018
PAINWeekEnd on April 14 and 15 at the Hilton West Palm Beach, 600 Okeechobee Blvd, will be an educational and exciting 2-day program providing busy clinicians and allied healthcare practitioners with 12.0 hours of relevant, practical instruction in the management of chronic pain.
On March 9, the Florida House and Senate passed new legislation that restricts initial prescriptions for Schedule II medications to 3 days, with an exception for 7 days with sufficient documentation of medical necessity. Florida will join just 2 other states with such restrictive prescribing limitations. The law also seeks to enhance the use of the state's prescription drug monitoring database by making "prescriber or dispenser" consultation of the PDMP mandatory before issuing a prescription. Currently, Florida has no such requirement. Continuing education on prescribing controlled substances will also be mandatory for all prescribers. Abigail T. Brooks, PharmD, BCPS, is a Clinical Pharmacy Specialist in pain management at the West Palm Beach VA, a consultant for Axial Healthcare, Nashville, Tennessee, and a returning member of the PAINWeek faculty. Commenting on the current environment for pain practitioners, and the role of opioids in the treatment spectrum, she observed: "The decision to engage in opioid therapy is really about choosing the right patient after failure of other first-line modalities. And if there are concerning behaviors that make the patient an inappropriate candidate for opioids, practitioners need to be ready with alternatives, both nonopioid pharmacologic agents and nonpharmacologic treatments." At PAINWeekEnd West Palm Beach, Dr. Brooks will be presenting "Not for Human Consumption: New Drugs of Abuse and Their Detection" and "What's All the "GABA" About? Pregabalin and Gabapentin Abuse. "I find that gabapentin is a good medication to engage in the opioid tapering process, to help make dose reductions more tolerable," Dr. Brooks continued. "But increasingly, we have to watch for signs of misuse of these agents as well. Pregabalin and gabapentin aren't detected on a typical urine drug screen assay, so it makes the job of clinicians more difficult."
Other courses include Pain Pathophysiology Unraveled; Chronic Pain Assessment; Pain Diagnostics: Clinical Pearls to Improve Common Tests for Pain; When Acute Pain Becomes Chronic; Regional Pain Syndromes: Neck and Back; 3's Company: COX-2 Inhibitors, Medicinal Marijuana, and Opioid Prescribing; Osteoarthritis Pain: Past, Present, and Future.
PAINWeekEnd West Palm Beach will culminate with an in-depth examination of the status of Risk Evaluation and Mitigation Strategies (REMS) for Extended-Release and Long-Acting Opioid Analgesics featuring pain education pioneers Lynn Webster, MD, and Bill McCarberg, MD.
Commercially supported activities—addressing a range of product, disease state, and medical information topics—will also be presented.
Online registration fee for this PAINWeekEnd Conference: $199. PAINWeekEnd registrants may register for the 2018 PAINWeek National Conference, September 4-8, in Las Vegas, for $200 off the current online published price.
PAINWeekEnd is provided by Global Education Group. About Global Education Group:
Global Education Group focuses on producing partnership-based CME for healthcare practitioners. The Global team works with a select group of medical education companies, associations, academic institutions and healthcare facilities to develop and accredit live healthcare conferences and workshops as well as online activities. With each partnership or joint providership, Global brings accreditation expertise, project management excellence and grant funding intelligence. Based in Littleton, Colo., Global has accreditation with commendation from the ACCME. Global also holds accreditations to offer continuing education for nurses, nurse practitioners, pharmacists, dietitians, dentists and psychologists. Global is a division of Ultimate Medical Academy.