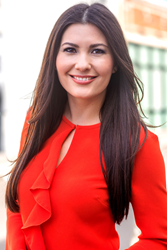 (PRWEB) March 20, 2018
Actress Celeste Thorson, as seen on TV shows like How I Met Your Mother, Jimmy Kimmel Live!, and The Exes, is slated to appear in a new lineup of films and television shows in 2018. Thorson can be seen in an all-new episode of USA Network's UNSOLVED, a true crime series about the Tupac and Biggie murders airing on March 20, 2018 at 10/9c. Celeste recently brought Ginny Spears to life as the leading lady in THE VEILED AVENGER, an action film inspired by a 1940's comic book about a district attorney's secretary turned crime fighting action hero. Celeste performed alongside Rafael De La Fuente (Dynasty, Empire, American Horror Story) and Wil Traval (Jessica Jones, Arrow, Once Upon A Time) in the upcoming adventure feature film TREASURE HUNTER: LEGEND OF THE WHITE WITCH. Celeste also stars as the lead in the historical fiction thriller, APACHE WIFE, inspired by 19th century Apache Native American oral history.
Based in Los Angeles, Celeste Thorson performed in comedies and sitcoms on television shows like the Emmy Award Winning CBS series How I Met Your Mother, Amazon Studio's A Kid Called Mayonnaise, TV Land's The Exes, NBC's Heartbeat, TBS' If The Mob Ran HR, and ABC's Jimmy Kimmel Live! She starred as the lead in sci-fi's like Scrubbed and Whipping Boy, as well as in numerous other short and feature films. As an action adventure host, she starred in two seasons of a travel show which aired in over 66 countries worldwide. She has appeared as actress and host in more than 65 films, television and new media episodes.
In addition to being an actor, Celeste Thorson is a screenwriter and producer. She has written 27 television episodes, 9 new media episodes, 5 short films, and produced 17 television episodes, 9 new media episodes, and 5 shorts. She has a number of scripts in development for film and television that range from crime dramas to heartwarming comedies. As a content producer and digital influencer on social media, she went from microinfluencer to superinfluencer attracting over 1.8 million fans and 30 million video viewers with her fashion, travel, lifestyle, and entertainment content.
For more project information and airing dates visit: http://www.imdb.me/celestethorson
To connect with Celeste Thorson on social media follow her on:
Facebook: http://www.facebook.com/officialcelestethorson
Twitter and Instagram: @CelesteThorson
Website: http://www.CelesteThorson.com