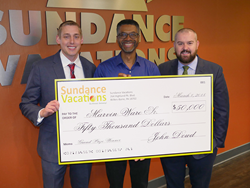 "The community has been great to us and we love giving back to them as a way to say thank you for supporting Sundance Vacations for over 26 years"- John Dowd, Co-founder
WILKES-BARRE, Pa. (PRWEB) March 22, 2018
Sundance Vacations is proud to announce the winner of our annual $50,000 giveaway! This marks the 14th year of this annual sweepstakes and the company has given out over $700,000 to date!
Congratulations to Marvin Ware from Pennsauken, NJ!! He was selected at random from all the entries as the grand prize winner and was able to choose between a vehicle valued at up to $70,000 or a $50,000 cash prize!
Marvin selected the $50,000 option and received it at our King of Prussia Sales Office in March 2018. When asked what he would do with the winnings, Marvin says he is going to use it for some everyday things and maybe something fun. "I plan on fixing some things around the house," he said. "I also want to take care of the kids and maybe take a nice vacation!"
Sundance Vacations collects entries from people at popular events around the United States. These events include: concerts, trade shows, sporting events, fairs and more! The company keeps these entries all-year long and draws a single lucky winner of the grand prize in the first few weeks of the New Year.
Other winners, of secondary prizes, include a fantasy trip valued at $3,000, a $1,000 Visa gift card, a Samsung 48" LED Television and four tickets to any concert or sporting event of your choice. Congratulations to all of those winners as well!
For more information about Sundance Vacations, visit their website at: http://www.SundanceVacations.com, or follow them on social media like Facebook, Twitter, Instagram, YouTube, etc.
About Sundance Vacations
Sundance Vacations is a national travel company that specializes in destination-based vacation accommodations. The company is headquartered in Wilkes-Barre, Pa. and maintains offices in New Jersey, Washington DC, Pittsburgh, Chicago and four call centers located in Northeastern Pa. Sundance Vacations placed in the Best Place to Work in Pennsylvania by Best Companies Group for four consecutive years, and 12th Best Place to Work out of 100 finalist companies from the Best Place to Work Illinois program. The company was recently honored for the second time as one of the Fastest-Growing Travel Companies in Pennsylvania by Inc 500/5000.