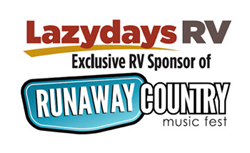 We're proud to sponsor Runaway County and to be part of this annual celebration of country music and RVing. We look forward to connecting with the many country music fans and RV enthusiasts who will be joining us there
TAMPA, Fla. (PRWEB) March 21, 2018
Lazydays, The RV Authority and world's largest RV dealership, announces its 3rd consecutive year as exclusive RV sponsor of the Runaway Country Music Festival, which takes place March 23–25, 2018, at Kissimmee's Osceola Heritage Park. As Florida's biggest gathering of country music talent, this year's three-day concert and RV camping event will feature live performances by Florida Georgia Line, Brantley Gilbert, Darius Rucker, Kane Brown, Brett Young and other leading country acts.
The 8th annual Runaway Country Music Fest offers a variety of indoor and outdoor entertainment options, with 30 artists on two stages in addition to line-dance lessons, DJ sets, nightly parties and dozens of food vendors, bars and shops. The adjacent Runaway Country Camping welcomes overnight guests with 1,200 RV campsites and hundreds of tent sites. Lazydays will have a prominent presence at the festival with a display of eight RVs on the event grounds, all open for browsing.
"We are thrilled to partner with Lazydays. Their display at the festival offers attendees a fun experience with a great selection of RVs," said Gary McCann, Executive Producer of the Runaway Music Fest. "Florida in March, camping on-site with the artists, friends and family—these should be on everyone's bucket list. I've filled my bucket at Lazydays more than once; I own two RVs purchased from Lazydays."
"We're proud to sponsor Runaway County and to be part of this annual celebration of country music and RVing. We look forward to connecting with the many country music fans and RV enthusiasts who will be joining us there," said John Lebbad, Chief Marketing Officer for Lazydays.
About Lazydays
Lazydays, The RV Authority, is an iconic brand in the RV industry. Home of the world's largest recreational dealership, based on 126 acres outside of Tampa, Florida, Lazydays RV also has dealerships located in Tucson, Arizona, and Loveland, Denver and Longmont, Colorado. Offering the nation's largest selection of leading RV brands, Lazydays RV features more than 2,500 new and pre-owned RVs, over 300 service bays and two on-site campgrounds with over 700 RV campsites. Lazydays also has rental fleets in Florida, Arizona and Colorado. In addition, Lazydays RV Accessories & More stores offer thousands of accessories and hard-to-find parts at all of our dealership locations.
Since 1976, Lazydays has built a reputation for providing an outstanding customer experience with exceptional service and product expertise, along with being a preferred place to rest and recharge with other RVers. Lazydays consistently provides the best RV purchase, service, rental and ownership experience, which is why more than a half-million RVers and their families visit Lazydays every year, making it their, "home away from home."
Lazydays Holdings, Inc. is a publicly listed company on the NASDAQ stock exchange under the ticker "LAZY."