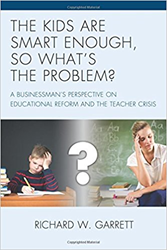 INDIANAPOLIS, Ind. (PRWEB) March 21, 2018
Former Eli Lilly Executive Finds "Root Cause" For Failing Schools
Dr. Richard W. Garrett conducted an investigative study in support of teachers and found a nonpartisan perspective for failing schools. His recently published book titled, The Kids are Smart Enough -- So What's the Problem? A Businessman's Perspective on Educational Reform and the Teacher Crisis, discovers neither charter schools nor lack of funding are directly to blame. Dr. Garrett's findings conclude that the root cause in failing schools stems directly from disruptions in the classroom, and lack of structure for managing them.
By scouring data, gaining insight from veteran educators, and applying his business world experiences, Garrett has followed a path starting with the teacher crisis, and ending in basic unaddressed issues in the classroom. Disproportionate numbers of disruptive students are either going unaddressed, or ineffectively punished through suspensions that do more harm than good. He stresses these students are not to be 'written off,' but rather placed in an environment that will expand their learning through a different instructional mix of non-cognitive and cognitive skills.
79-year-old Dr. Garrett's hope is to not only empower and encourage teachers, but also help educators instill hope, grit, and exemplary character traits in each of our nation's students. "My goal is to give the world a more realistic picture of what life as a teacher is like," says Garrett. He envisions the day his solution spreads nationwide and is able to tell teachers "we are standing up for you."
The Kids are Smart Enough -- So What's the Problem? is available for purchase or download on Amazon, Barnes and Nobles, Google Play and Kindle. It is also available through the publisher, Rowman & Littlefield, a leading independent publisher out of Lanham, Maryland, known for Academic Publishing, Educational Publishing, and the Publishing of Government and Official Data.
To learn more about the initiatives Dr. Garret is launching to further support teachers and help solve the education crisis, please visit http://www.elevateteachers.org.
###
Indianapolis native, Dr. Richard Garrett spent his 27-year-long career as an Eli Lilly Executive. Following his retirement in 1993, Garrett was seeking for a role that integrated both his passion for business and education. He found his niche at Indiana University as a professor of Kelley School of Management where he was recipient of The Most Innovative Teaching Award in 1998. Dr. Garrett is a 10-year member of the Accreditation Board for Engineering and Technology and a contributor to Harvard Business Review.
Established in 2015 by Richard Garrett, Elevate Teachers, Inc. is a 501(c)(3) non-profit advocacy organization. Elevate Teachers is devoted to improving the status and well-being of teachers in our society by helping the public to better understand some of the reasons for the teacher crisis. For more information visit: http://www.elevateteachers.org
Contact: Payton Lester
Phone: (317) 363-5851
Email: payton(at)elevateteachers(dot)org