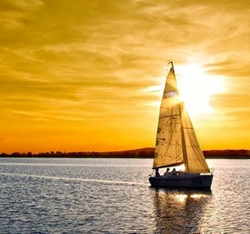 Chartering a boat in Los Angeles is a great way to spend quality time together with friends, loved ones, and nature
MARINA DEL REY, Calif. (PRWEB) March 21, 2018
Recent research indicates that many people, especially kids, can benefit from more time with nature. That is where OnBoat stands ready to be of service. According to Marc Andelman co- founder of OnBoat, this peer to peer webservice for captained charter boats is an easy way to access a stupendous outdoor activity right in Los Angeles; the Pacific Ocean.
Immediately off shore from Los Angeles is a nature coastline of looming headlands, distant mountains, beds of giant kelp, and a sparkling sea teaming with life. Catalina Island, a veritable Galapagos of endemic plants and animals, mysteriously beckons out at sea, an easy day trip by booking a Los Angeles boat charter, Long Beach or a charter yacht in Newport Beach. Immediately off shore, California grey whales are often spotted during in their fall and spring migration. Other less common whales are sometime spotted in the summer, including the gargantuan blue whale, and, occasionally,even killer whales.
California sea lions and at least two species of dolphins are very common. The Pacific flyway brings teaming migratory bird populations in different seasons. The myriad ocean birds include many species of gulls, sea ducks, grebes, loons, cormorants, pelicans, terns, shearwaters, murrelets, skuas, mergansers, and albatrosses.
This diversity and abundance of life is simply mind boggling. The coastline of southern California is a natural wonder. According to Marc Andelman, co founder at OnBoat "Chartering a boat in Los Angeles is a great way to spend quality time together with friends, loved ones, and nature". What is most amazing is that a Marina Del Rey yacht rental is only six miles from LAX!
Marc Andelman says that the OnBoat charter yacht service has also expanded overseas with a comprehensive fleet of yachts in Ibizza, Mallorca, and Barcelona boats for hire