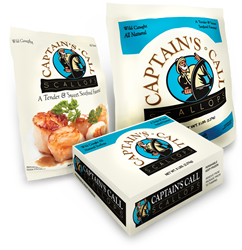 Marlborough, MA (PRWEB) March 21, 2018
Thought For Food & Son, LLC, a leading creative boutique that specializes in the food industry announced today they have completed an eight month design and rebranding project for seafood industry leader, Northern Wind. Thought For Food & Son was retained to design and rebrand Northern Wind's Captain's Call, Mariner's Choice and Sea Spray products lines that included new brand logos for each line including all retail, foodservice packaging and product sell sheets.
The new rebranding was initiated to coincide as part of Northern Wind's 30th Anniversary celebration during 2018. As part of the assignment, Thought For Food & Son also designed Northern Wind's trade show booth and was responsible for all public relations leading up to and during Seafood Expo North America that was recently held in Boston. Seafood Expo North America is the largest seafood event in North America.
"Thought For Food & Son far exceeded our expectations for this project and produced a new brand identity for each line that will better position our brands in both the retail and foodservice channels," said Ken Melanson, Founder & Chairman of Northern Wind. "The quality and amount of effort that went into this project went way beyond what was expected. Thought For Food & Son's attention to details, the amount of options presented and creativity were exceptional."
Thought For Food & Son also offers a range of public relations and social media programs that include Blogger Outreach for Product Launches and/or Product Reviews, Recipe Videos for Facebook, Twitter and Instagram, Brand Ambassador Research & Paid Sponsorship Programs and Facebook, Twitter and Instagram Daily Maintenance and Paid Advertising.
Thought For Food & Son has worked with fine companies such as Sea Watch International, famous Hollywood actor Paul Sorvino Foods, Fonterra Brands, Cape Cod Select, Bakery On Main, New York Ravioli & Pasta Company, Mountain High Organics, New England Natural Bakers, SuperSeedz, Paesana Italian Products, 505 Southwestern Sauces & Salsas, Big League Chew, Stirrings Cocktail Mixers, Steviva, JSL Foods and Plocky's Fine Snacks.
About Thought For Food & Son, LLC
Founded in 2005, Thought For Food & Son, LLC is a leading creative boutique that specializes in the food industry. We offer our clients a combination of expertise and value that is unsurpassed within the food industry. We're a communications company without the traditional agency "BS." Thought For Food & Son operates as a "Strategic Resource" for its clients offering public relations, advertising, packaging design, social media, recipe videos and brand development. Our focus is to create communication strategies using our proprietary PR FOOD MEDIA INDEX for clients who believe in powerful thinking. Thinking that demands notice. The kind of thinking that inspires people to take action and enables our clients to grow and prosper. For more information about Thought For Food & Son e-mail alan(at)tffandson(dot)com