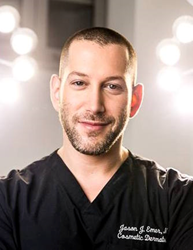 "My practice is growing rapidly and it made the most sense to build the stunning, one-of-a-kind, all-encompassing institute my patients deserve. It's truly a 'pamper palace,'" says Dr. Emer
WEST HOLLYWOOD, Calif. (PRWEB) March 21, 2018
Dr. Jason Emer, the Beverly Hills cosmetic dermatologist, world-renowned for his pioneering aesthetic treatments for facial shaping and body contouring, is moving to a permanent home in a stunning new state-of-the-art facility in West Hollywood at 9201 Sunset Blvd. The comprehensive cosmetic institute will feature the most advanced surgical and non-surgical treatments for facial and body aging in a gorgeous new ambiance that gives patients a pampered and personalized experience.
Whether it is for self-improvement, age prevention, or to treat a botched procedure or burn, Dr.Emer is devoted to helping his patients by providing the best options, outcomes, and overall experience possible.
"I believe we're truly breaking the mold on what a cosmetic dermatological and surgical practice should look and feel like," says Dr. Emer. "My practice is growing rapidly and it made the most sense to build the stunning, one-of-a-kind, all-encompassing institute my patients deserve. It's truly a 'pamper palace.'"
Designed by celebrity New York-based architect Dee Rodrigo of Exod Arch in collaboration with Ben Ballentine of Ballentine Architects Studio in Venice CA, the fully-equipped new aesthetic center will serve patients in ways that can only be described as unforgettable and astounding. From a fully futuristic and serene cosmetic spa, to a digital skincare beauty bar, and an IV drip lounge, clients can relax and get the most advanced treatments in a true oasis away from their personal hustle and bustle. The extravagant new space will also have an aftercare center onsite, allowing for post-surgical recovery including hyperbaric oxygen therapy, lymphatic massage, and gourmet nutrition catering with privacy and convenience.
"Thanks to repeat visits and a large volume of referrals from our many delighted clients, we've experienced unbelievable growth, which has allowed us to expand like this to meet our patients' needs and exceed their aesthetic goals," Dr. Emer says. "The bigger new space will also facilitate bringing in other experts in the health and wellness field to provide the rejuvenative, Zen-like, and resort-quality experience our patients deserve."
Stay tuned to find out more about this experience, including customized nutrition therapy, by logging on to http://JasonEmerMD.com or following Dr. Emer's daily social media posts.
"Clients will continue to get the most advanced customized skincare and body consultations and programs," Dr. Emer says. "The laser and body treatment center will house over 35 aesthetic medical devices that treat conditions like excess body fat, sun damage, acne scars, rosacea, blood vessels, skin laxity, wrinkles, and cellulite, to name a few. They'll also enjoy floor-to-ceiling windows overlooking iconic Sunset Boulevard, and a consultant lounge where they can review their treatment plans in a private, serene environment."
On-site valet parking is available, as well as a cutting-edge kitchen where a fresh assortment of healthful snacks and drinks will be prepared fresh daily. In the meantime, since construction has only just started, and the official grand opening is still to come, come visit us at our temporary space starting March 19, 2018, in the same building, where all current and new patients will be receiving the services they expect from the most caring staff and most devoted cosmetic dermatologist in Los Angeles.
Dr. Emer on Social Media:
Facebook @JasonEmerMD
Snapchat @JasonEmerMD
Instagram @JasonEmerMD
Twitter @JasonEmerMD,
Also, visit his website http://JasonEmerMD.com/ for more information on the most advanced treatments in cosmetic dermatology and body sculpting.
For Reviews: Realself.com & Yelp.com
Contact: Media(at)JasonEmerMD(dot)com
More Information on Dr. Jason Emer:
Dr. Jason Emer is a board certified and fellowship-trained cosmetic, laser, and procedural dermatologist, who specializes in surgical and nonsurgical body contouring, hi definition body sculpting and etching, fat transfer, cellulite reduction and skin tightening.
He is one of a select few surgeons in the United States to perform hi definition body contouring/etching in which he precisely and meticulously defines target areas to not only remove fat but also contour and define the muscle and body shape. He uses this technique to "etch" six-packs and create highly defined musculature such as the chest, buttock, breast, and calves. Harvested fat can be transferred to other areas to address concerns such as facial wrinkles and lack of volume, hand veins and aging, buttock and breast size and lifting, and the muscular size and bulk of the chest, biceps, calves, shoulders, and quadriceps. Cellulite and skin tightening are also addressed with each individual case and can be improved with a combination of surgery, lasers, fat transfer, and/or external heating/suction devices to get the ultimate results in body contouring procedures.
Dr. Emer is also a leading expert in cosmetic and laser dermatology utilizing the latest advancements in non-invasive laser, radiofrequency and ultrasound treatments for aging. He utilizes combination treatments to get the ultimate results and customizes treatments to the patient's skin type and long-term goals. His interests include acne and traumatic scars, abnormal pigmentation, burns, and anti-aging/rejuvenation combination treatments. Dr. Emer's practice is located in Los Angeles, California.
Visit http://JasonEmerMD.com/ for more.
Jason Emer, MD
9201 Sunset Blvd. Suite 708
West Hollywood, CA 90069
(424) 285-5545
Media(at)JasonEmerMD(dot)com