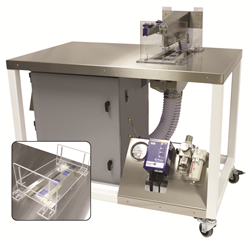 HATFIELD, Pa. (PRWEB) March 21, 2018
Simco-Ion, the world's largest manufacturer of static control products, is excited to introduce the new SCV Cleaning Table. The SCV Cleaning Table is a high performing, aggressive particulate agitation system featuring active monitored static elimination and a powerful vacuum to clean medical trays and other critical parts.
The SCV Cleaning Table is available for single or double-sided cleaning. The lower hood on all tables features Simco-Ion's exclusive Clean Capture Technology, designed with powerful dual vacuum slots and three IQ Power High Efficiency Nozzles to capture particulate. The built-in monitoring dashboard is comprised of a tamper-resistant filtered air regulator, an IQ Power LPS Power Supply and a magnehelic gauge for indication of airflow and filter status. The upper hood of the double-sided design showcases a medical grade stainless steel Neutrovac which includes an IQ Power static neutralizing bar to electrostatically debond particles and move debris through a stainless-steel air tube to the vacuum slot for ultimate cleaning.
Reduce rework with the SCV Cleaning Table prior to sealing or bagging operations in food, pharmaceutical and medical packaging operations.
About Simco-Ion:
Simco-Ion is the worldwide leader in static control technology, offering custom solutions for a wide range of industrial applications. With a focus on continuous improvement, Simco-Ion is dedicated to developing advanced products designed to improve productivity through enhanced system performance and operation. Worldwide sales support provides unsurpassed customer service and application analysis that continues to drive product excellence. Simco-Ion is part of Illinois Tool Works Company, a diversified manufacturer of highly engineered components, industrial systems and consumables with annual revenues of $14.5 billion. The Company consists of approximately 800 business units in 57 countries and employs some 49,000 people.