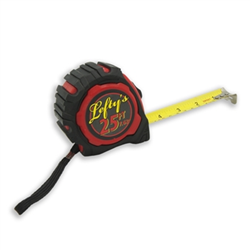 SAN FRANCISCO (PRWEB) March 22, 2018
In response to pleas from left-handed customers, Lefty's the Left Hand Store has introduced their new custom heavy duty left-handed tape measure. Lefties naturally hold a tape measure in their right hand, and pull it out with their left. This means that the numbers on left-handed tape measures are upside down when used by a lefty! Left-handers have to flip the tape over in their mind, reading the numbers upside down, or else learn to pull it out with their "wrong" hand.
This is not only awkward, but can be quite dangerous, especially when used around power tools or heavy equipment. However, tape measures are not only used in shops and on construction sites. They are not "guy" tools, but tools used by all sorts of people, all the time!
Left-handed tape measures have been made in the past, but usually they've been of low quality, with narrow tapes. Like most products made for lefties, they've also been discontinued because the market is small.
Lefty's created a custom left-handed tape built to last, and to have important features that make it safe, durable and very useful. With it's easy-grip grooved rubber body, it's 1" wide tape for measuring longer distances, and markings in both metric numbers and feet and inches, this tape measure is designed for serious use.
Measuring is essential to all sorts of projects and jobs, and measuring is also a thorn in the side of many lefties. In addition to the tape measure, Lefty's has designed a left-handed tailor's tape, a key chain with a small tape, a left-handed ruler and even a left-handed measuring cup!
Visit Lefty's retail stores on Pier 29, San Francisco, or in Downtown Disney, Walt Disney World Resorts, Orlando, FL.