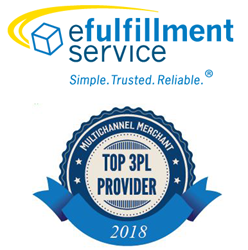 The main thing we try to do here at eFulfillment Service is make things easy for our clients.
(PRWEB) March 21, 2018
eFulfillment Service, the nation's leading provider of third-party warehousing and order fulfillment services for small and mid-sized ecommerce merchants, has just added Ecwid and Squarespace to its growing list of shopping cart integrations.
"We're very pleased to now be integrated with Ecwid and Squarespace," comments Steve Bulger, VP of Sales, Marketing & Customer Service at eFulfillment Service (EFS). "These are two ecommerce platforms that we're seeing more sellers using for their online stores, and we wanted to be able to automate the order fulfillment process for those sellers, just like we do with other popular shopping carts."
For merchants selling on Ecwid or Squarespace that are utilizing eFulfillment Service as their third-party logistics (3PL) provider, orders will be automatically retrieved from those shopping carts into eFulfillment Service's proprietary order management system. Once orders are picked, packed and shipped from its fulfillment center, eFulfillment Service will then push tracking and inventory numbers back to Ecwid and Squarespace, closing the order within those systems and allowing tracking numbers to be sent automatically to the end customer.
"The main thing we try to do here at eFulfillment Service is make things easy for our clients," says Bulger. "After all, online sellers utilize our 3PL services because they don't want to think about order fulfillment, and that starts at the shopping cart level by making sure we can send data back and forth automatically."
Ecwid and Squarespace join a list of over 40 integrations supported by eFulfillment Service, a company well-known within the 3PL industry for its dependability and approach to managing its operations.
"A lot of fulfillment companies don't have their own IT group," adds Bulger. "In fact, some not only outsource their IT, but also outsource the actual warehousing of their clients' merchandise. At EFS, we feel it's important to control all aspects of our operation in order to provide our clients with the best experience possible, and utilizing our in-house IT group to develop these types of direct integrations is critical to that mission."
About eFulfillment Service
eFulfillment Service (EFS) is an established, award-winning leader in ecommerce order fulfillment. Every day, hundreds of merchants around the world depend on EFS for fast, simple, affordable service. With high-touch service, first-rate technology, and friendly, straightforward terms that include no minimums, no setup fees and no long-term contracts, it's clear why eFulfillment Service has become one of the most trusted and respected names in order fulfillment. For more information, please visit https://www.eFulfillmentService.com.