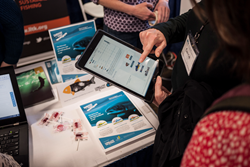 It's like fantasy football for fish.
SEATTLE (PRWEB) March 21, 2018
Saving a species is no game – except when it's time for Survive the Sound! Now in its second year, Long Live the Kings' (LLTK) interactive game lets you "race" steelhead (a salmonid) as they make their perilous annual migration, all while supporting efforts to bring Washington's state fish back from the brink of extinction.
The current steelhead population is at just 10% of what it once was, due in part to the many threats they face on their way through the Puget Sound: predators, disease, habitat destruction, and pollution. During this spring's migration, you can make a difference by sponsoring a fish (or forming a whole team) at SurvivetheSound.org.
With the Survive the Sound game using real data, everyone can sponsor a steelhead and follow their paths as they make their way to the finish line. You can compete with friends, family and colleagues to see if your fish makes it to the ocean first – "it's like fantasy football for fish," says LLTK Project Coordinator Lucas Hall. The stakes are high on this dangerous journey. Last year, just six of 48 steelhead survived.
Survive the Sound is an annual campaign developed by LTTK, a local nonprofit that has worked for the past 30+ years on research and conservation efforts to rebuild wild salmon and steelhead populations in areas of critical need. Participation helps raise awareness of LTTK's work and brings Survive the Sound to local classrooms for free--engaging students in conservation and STEM learning opportunities.
Survive the Sound runs from May 7th-18th, so lock in your picks by May 6th to play. You can also create your own team to raise funds for steelhead recovery efforts or spark friendly competition at work by challenging your colleagues.
The great migration is just around the corner, and with it, another chance to make a difference while having fun. Supporting Survive the Sound helps LLTK continue their work to ensure that wild salmon and steelhead remain a vital part of the Pacific Northwest ecosystem for years to come!
You can contact sts(at)lltk(dot)org for additional comments and more information on how to bring Survive the Sound to your classroom or workplace.