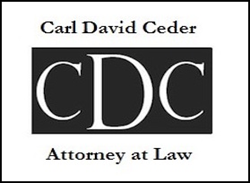 DALLAS-FORT WORTH, Texas (PRWEB) March 22, 2018
Dallas Fort-Worth Criminal Defense Attorney Carl D. Ceder has been recognized in 2018 for the 5th consecutive year by Texas Monthly Magazine as a Texas Super Lawyer "Rising Star" in the field of Criminal Defense, an honor bestowed to less than 2.5% attorneys in the state. Carl was also chosen for the 5th consecutive years as a "Top 100 Trial Lawyer" by The National Trial Lawyers Association, along with also being named again "Top 40 Under 40" by the same organization.
Carl has also been selected for the 4th year in a row to the 2018 list as a member of the Nation's Top One Percent by the National Association of Distinguished Counsel. NADC is an organization dedicated to promoting the highest standards of legal excellence. Its mission is to objectively recognize the attorneys who elevate the standards of the Bar and provide a benchmark for other lawyers to emulate.
Members are thoroughly vetted by a research team, selected by a blue-ribbon panel of attorneys with podium status from independently neutral organizations, and approved by a judicial review board as exhibiting virtue in the practice of law. Due to the incredible selectivity of the appointment process, only the top one percent of attorneys in the United States are awarded membership in NADC. This elite class of advocates consists of the finest leaders of the legal profession from across the nation.
The American Institute of Criminal Law Attorneys (AIOCLA) has recognized Carl for exceptional performance for the 5th-year as 10 Best Criminal Law Attorneys for Client Satisfaction. The American Institute of Criminal Law Attorneys is a third-party attorney rating organization that publishes an annual list of the Top 10 Criminal Law attorneys in each state. Attorneys who are selected to the "10 Best" list must pass AlOCLA's rigorous selection process, which is based on client and/or peer nominations, thorough research, and AlOCLA's independent evaluation. AlOCLA's annual list was created to be used as a resource for clients during the attorney selection process.
One of the most significant aspects of the selection process involves attorneys' relationships and reputation among his or her clients. As clients should be an attorney's top priority, AIOCLA places the utmost emphasis on selecting lawyers who have achieved significant success in the field of Criminal Law without sacrificing the service and support they provide. Selection criteria therefore focus on attorneys who demonstrate the highest standards of Client Satisfaction. AIOCLA has congratulated Carl D. Ceder on this achievement and have listed they are honored to have him as a Five Year AIOCLA Member.
Attorney Carl D. Ceder is Board Certified in Criminal Law by the Texas Board of Legal Specialization (profile here: http://www.tbls.org/Profile/Attorney.aspx?mid=24062657), and takes a great deal of pride with his criminal defense practice. Attorney Carl D. Ceder is also a "forensic-lawyer" scientist, earning the designation through Axion Labs in Chicago, and sponsored by the Chemistry and Law division of the American Chemical Society. The ACS-CHAL designation is the highest form of scientific recognition available for lawyers (http://www.forensicchromatography.com/acs-chal-forensic-lawyer-scientist-carl-david-ceder-from-texas).
You can contact Texas Criminal Defense Attorney Carl D. Ceder directly at 214.702.CARL(2275) or http://www.CarlCederLaw.com; http://www.DFWDefender.com; http://www.DallasDefender.com; http://www.TexasDWIDefender.com.