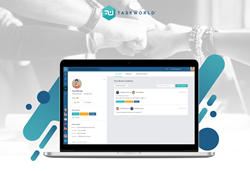 Performance reviews on Taskworld take damaging behavioral biases out of the picture.
New Jersey (PRWEB) March 23, 2018
Leading project management software Taskworld has released a brand new tool for enterprises - Performance Reviews. Users can now receive/give feedback on tasks to their teammates. Taskworld consolidates this information and provides real-time performance reports.
Taskworld's survey of 500 American professionals revealed that more than 50% respondents felt that performance reviews weren't constructive. Over 70% were only evaluated once a year, leaving them uncertain about their performance for the most part.
Taskworld studied these insights and crafted a brand new tool to give feedback and measure performance.
1) Evidence based feedback
Whenever a task is completed, the assigner will have an option to give feedback to its assignees. This ensures that the assignee understands the context of the feedback. It also encourages team members to give frequent feedback to each other.
2) Company values
Taskworld has created a set of 18 values that users can attach with their feedback. These values are based on the most sought after traits among modern companies. Company values are visible on user profile as badges, similar to LinkedIn endorsements. Users can also create their own values.
3) New profile page
The new user profile condolidates all the feedback received/given by the user along with value badges in one place. "When you're doing performance reviews, simply go to your teammate's Taskworld profile to see all their feedback. This takes damaging behavioral biases out of the picture, and makes reviews swift and fair." said Fred Mouawad, CEO and Founder of Taskworld.
4) Feedback stream
The feedback stream shows you feedback related notifications. It displays opportunities to give feedback to your teammates when they complete tasks created by you.
Taskworld pioneered evidence based feedback back in 2013 when it became the first project management solution to offer feedback on tasks. They later took it off in order to refine it. This new release reintroduces performance management in an unprecedented way.
Taskworld is available in 11 different languages (English, French, German, Spanish, Portuguese, Italian, Thai, Chinese, Korean, Japanese and Bahasa Indonesia) with public cloud, VPC and on-premise options. Visit taskworld.com for more information or send an email on support(at)taskworld(dot)com
Press Contact: Shiv Sharma (shiv.s(at)taskworld(dot)com)
Contact number: +1-866-428-9571