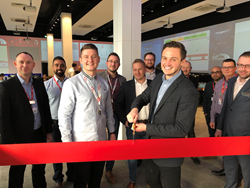 (PRWEB UK) 22 March 2018
Managed 24/7 - voted CRN 'Managed IT services provider of the year' in 2016 and 2017 – is working with Virgin Trains to deliver IT Service Desk, which enables the franchise to increase their level of service to employees, whilst providing a single point of ownership for all things IT.
Virgin Trains were looking for a world class market innovating partner to provide an agile and innovative IT Service Desk function to enable staff to spend more time on delivering an exceptional customer experience rather than working on IT issues. Managed 24/7 were appointed following an RFP process to form the nucleus of a wider programme of innovation and change within Virgin Trains IT Services provision.
Managed 24/7 delivers BSI accredited ISO 27001, ISO 20000-1, UK-based IT managed services for customers 24 hours a day, 7 days a week, 365 days per year.
Using latest innovative monitoring tools, the team at Managed 24/7 are renowned as 'disruptors' in the market and pride themselves on being innovative industry leaders when providing exceptional customer service and IT solutions.
Stuart Mackcracken, Head of IT at Virgin Trains comments: "Our service desk is the very heart of our IT delivery. As a business everything we do is for the customer experience and by delivering a world class service to our staff they are able in turn to deliver a world class experience to our customers. The service went live in February 2018 and we are very happy to have chosen Managed 24/7 to deliver this key service for us.
Stephen Boardman, Commercial Director at Managed 24/7 comments: "This is a very proud moment for the whole managed team. We have been entrusted to deliver an exceptional OneCare and 24x7x365 service desk to a brand and service that truly understands customer experience. We are working closely with Virgin Train to manage and monitor workforce productivity with the outcome being staff spending more time with customers and less time on IT issues.
About Managed 24/7
Managed 24/7 is an award winning, UK based IT managed services provider, which delivers a seamless 24x7x365 extension to end users in key areas, including: IT managed services, network & application monitoring, consultancy & professional services and workforce productivity tools. Through its unique combination of monitoring technologies, business intelligence and analytics, Managed 24/7 focuses on delivering better workforce productivity for its clients by solving issues before they become employee affecting.
About Virgin Trains
West Coast Trains Limited (WCTL), trading as Virgin Trains, has operated the Inter-City West Coast (ICWC) rail passenger franchise on behalf of the Secretary of State for Transport since 1997. The Franchise serves key UK cities including London, Birmingham, Manchester, Liverpool and Glasgow, as well as the North Wales coast to Holyhead.