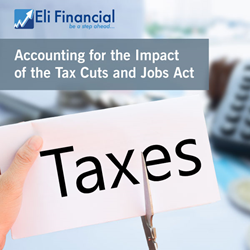 Tax reform will have a major impact on financial reporting, and particularly as it relates to ASC Topic 740 Income Taxes. Don't be left behind.
DURHAM, N.C. (PRWEB) March 22, 2018
Eli Financial, a division of audio conference and corporate education leader ProEdTech, will host the live webinar "Accounting for the Impact of the Tax Cuts and Jobs Act" with public accounting expert Samuel A. Monastra on Thursday, March 29, 2018, at 1:00 pm ET. This session will provide an overview of the new accounting considerations of ASC Topic 740 Income Taxes in light of recent tax reform.
On December 22, 2017, the Tax Cuts and Jobs Act introduced significant change to the U.S. tax system. It also includes the most substantial international tax reform in decades and is a major overhaul of the Internal Revenue Code. Tax reform will have a major impact on financial reporting, and particularly as it relates to Accounting Standards Codification (ASC) Topic 740 Income Taxes. Reporting entities are required to record the impact of tax reform in the period that includes the enactment date.
Consider this session with Monastra a practice aid to preparing accruals of corporate income taxes for the company financial statements, in accordance with Generally Accepted Accounting Principles (GAAP).
The program will help CFOs, CPAs, EAs, accountants, financial reporting professionals, accountants, and accounts payable professionals to:

Prepare income tax accruals for financial statements
Prepare the reporting disclosures for the notes to the financial statements
Account for significant changes in income tax rate between old vs. new tax laws
Account for other significant changes in tax code; old vs. new tax law
Identify temporary and permanent timing differences
Account for taxation of foreign earnings and additional tax on international payments
Account for deferred tax assets and liabilities
For more information and to register, visit: https://www.elifinancial.com/accounting/accounting-impact-tax-cuts-jobs-act.
Get $20 off on our webinars. Use Code PRWEB20 on checkout.
About ProEdTech
ProEdTech is a leading source of knowledge and training for professionals in over 15 industries, serving individuals, businesses and their employees around the globe. It offers webinars, online conferences, seminars, boot camps, books, DVDs, white papers, industry reports and other learning tools from industry experts and insiders who provide a fresh perspective on key issues, trends and regulations in order to simplify governance, risk and compliance (GRC) for enterprises and industry professionals.
ProEdTech's AudioEducator webinars offer updates, regulatory knowledge and information on the latest news in various medical specialties, as well as coding and billing updates, and analysis of regulations that affect ambulatory surgical centers, home health, long term care and hospice facilities, hospitals and healthcare systems, health insurers and physician practices. Webinars are also offered through AudioSolutionz in the technology, human resources, construction and housing, ICT and telecom, manufacturing, consumer packaged goods and retail, safety and security, transportation, energy and environment, education, trade, and chemicals industries. ProEdTech's Eli Financial platform offers tax and banking professionals, focusing on providing high-quality online training products customized for U.S. lenders and tax practitioners that include the latest updates from the IRS, CFPB and other regulatory authorities. Lawyers across the United States depend on Eli CLE for top quality online continuing legal education (CLE) programs, which can be completed for MCLE credits.
ProEdTech regularly provides professionals the opportunity to get answers to their most complex questions directly from experts, without having to attend costly live conferences. To learn more, visit: http://www.proedtech.com/.