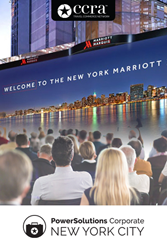 "We received a lot of feedback from our customers in 2017 who were looking for a way to connect more closely with our GDS-driven products" Dic Marxen, President & CEO, CCRA
FORT WORTH, Texas (PRWEB) March 23, 2018
CCRA announced today the launch of a brand new event focused on the needs of corporate travel agencies. The one-day event will be held at the Marriott Marquis in New York City on October 23, 2018 and will feature several prominent keynote speakers, panels focused on relevant industry issues, a supplier roundtable series and a supplier pavilion with participants from the air, hotel, car, tech and business service segments of the travel industry.
Travel brands currently sponsoring and presenting content include:

Accor Hotels
Aer Lingus
Carey International
Choice Hotels
Hilton Hotels & Resorts
HOTUSA Hotels
IHG (Intercontinental Hotels Group)
Marriott
Melia Pro
Millennium Hotels & Resorts
Norwegian Air
Posadas
Sabre
Panels will focus on VIP service for elite clientele, travel tech and capturing more business through the emergence of "bleisure travel".
CCRA will also spend time educating customers on their Global Preferred Hotel Program and AirSelect consortium offerings, as well as their industry-leading 24/7 call center for agencies looking to improve their after hours and overflow call handling.
"We received a lot of feedback from our customers in 2017 who were looking for a way to connect more closely with our GDS-driven products," said CCRA's President & CEO, Dic Marxen. "We wanted to capture the intimate feel and focused environment of our previous PowerSolutions events, but tailor them for a GDS-driven travel agency. Our corporate customers are facing uncertaintly when it comes to business travel in toay's environment, so we are bringing together the industry voices, tools and expertise they need to work confidently and profitably. We can't wait to show you what we've done!"
Currently, CCRA has more than 500 corporate travel agencies who are engaged with their products and services on a daily basis, representing an exponentially larger number of points of sale booking hotel, air, cars and more through their products.
Registration for the event is open, with a ticket fee of $99 per agent, which includes a full day of sessions, including breakfast, lunch and reception. Interested agents should visit https://www.ccra.com/pscorporate for more information and to register for the event.