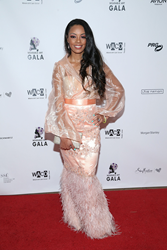 Giving back is important to me, I understand that to whom much is given much is required. I wasn't given this platform to keep my success to myself but to help others by inspiring and encouraging them to live a fulfilled life. – Monique Rodriguez, CEO and Founder
LOS ANGELES (PRWEB) March 22, 2018
This past weekend on Saturday, March 17, 2018 Monique Rodriguez, CEO and Founder of award-winning beauty brand Mielle™ Organics attended celebrity couple, Richard and Tina Lawson's 2nd Annual Wearable Art Gala. The renowned fundraiser hosted at the magnificent Hotel Alexandria in Los Angeles, CA, brought together celebrities, entertainers, media and notable guests for an extraordinary opportunity to support the WACO Theater Center programs while paying homage to this year's WACO Theater Center honorees Beyoncé Knowles Carter and Gloria Carter.
The night dedicated to giving back included a "WACO to Wakanda" theme where the red carpet was adorned by stunning African inspired looks. Guests were then greeted to a sampling of creole dishes, danced the night away and then were led in true New Orleans style with line dancing into the ballroom for the event's main program. Hosted by comedian and Get Out star Lil Rel Howery and a live auction spearheaded by television personality Star Jones where even six-year-old daughter of Jay-Z and Beyoncé, Blue Ivy herself got in on the auction outbidding Tyler Perry. Music Mogul Jay-Z presented his mother Gloria Carter with the Everyday People Award for her incredible impact and philanthropic work she has done with his Shawn Carter Foundation. Followed by a tearful Beyoncé who delivered a powerful speech after receiving the WACO Theater Center Humanitarian Award for her charitable efforts through her Bee Good Foundation.
To say the event was remarkable would be an understatement, WACO Theater Center raised close to half a million dollars. However, just when you thought the night was over, inspired by Beyoncé's heartfelt speech and the tremendous amount of support from those in the room, Monique Rodriguez stunned the entire audience when she got up, coming center stage and offering to donate twenty thousand dollars on behalf of Mielle™ Organics. The donation is in support of two under privilege children to attend the WACO Theater Center for an entire year. A girl under Tina's Angels mentorship program and one boy under Richard's Warriors mentorship program. An opportunity for the two children between the ages of twelve to fourteen who will learn how to walk, talk, interview for a job, learn the proper etiquette and the best way to handle themselves in every situation. In addition, to helping the young mentees be exposed to different forms of the arts.
ABOUT MONIQUE RODRIGUEZ
Monique Rodriguez, Mielle Organics Founder and CEO, has over nine years of experience as a registered nurse. Her background in science and focus on health from the inside out inspired Monique to share her regimen of healthy, tailbone-length hair with the masses. She is passionate about inspiring women in business and entrepreneurship. Monique's desire to create translates throughout all aspects of her life. When she is not running her beauty brand, she is testing new recipes or mentoring other young women. She is dynamic and multi-faceted with a true love and appreciation for all things beauty related. Monique resides in Indiana with her husband and COO of Mielle Organics, Melvin, and their two beautiful daughters, Mia and Mackenzie.