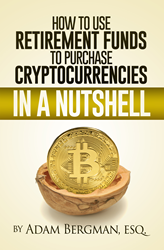 There is so much information online about buying bitcoins with an IRA we wanted to make sure investors understand the three primary rules for buying Bitcoin IRA
NEW YORK (PRWEB) March 21, 2018
IRA Financial Group, the leading provider of self-directed IRA LLC and Solo 401(k) Plans, announces three rules for clients to know before buying bitcoin IRA with their retirement funds. IRA Financial believes there is a strong the need for investors looking to use retirement funds to purchase cryptocurrencies to understand the fees involved, importance of holding the private key, as well as recognize the risks involved when using retirement funds to purchase cryptocurrencies. "There is so much information online about buying bitcoins with an IRA we wanted to make sure investors understand the three primary rules for buying Bitcoin IRA," stated Adam Bergman, President of the IRA Financial Group & IRA Financial Trust Company.
According to Mr. Bergman, many Bitcoin IRA investors are unaware that they do not have to go through a broker to purchase cryptocurrencies, such as bitcoin, which result in excessive commissions, no control over the crypto private key, and no ability to buy and sell cryptocurrencies 24 hours 7 days a week.
IRA Financial Group & IRA Financial Trust Company has partnered to offer a total control private key Bitcoin IRA LLC platform for cryptocurrency investors. With IRA Financial Group's private key crypto IRA solution, the retirement account holder have total control over his or her cryptocurrencies and can hold them through an exchange or via a digital or hardwallet. No need to pay commissions and account value fees to IRA custodians, with IRA Financial Group's "Wallet Control" IRA one can take control of their cryptocurrencies.
Adam Bergman, IRA Financial Group partner, has written seven books the topic of self-directed retirement plans, including, "How to use Retirement Funds to Purchase Cryptocurrencies, "The Checkbook IRA", "Going Solo," Turning Retirement Funds into Start-Up Dreams, Solo 401(k) Plan in a Nutshell, Self-Directed IRA in a Nutshell, and in God We Trust in Roth We Prosper.
To learn more about the IRA Financial Group please visit our website at http://www.irafinancialgroup.com or call 800-472-0646.