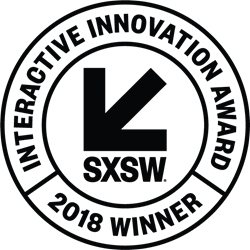 We are actually democratizing money and creating a paradigm shift in the financial market by giving our users affordable and attainable solutions through artificial intelligence
NEW YORK (PRWEB) March 22, 2018
Pefin was honored to receive the People's Choice Award for interactive innovation at the SXSW Interactive Innovation Awards Ceremony on Tuesday, March 13th. They were nominated under the New Economy category which honors those redefining the exchange of goods and services, from the sharing economy, to virtual currency, to micro-finance, to mobile-device-payment systems and beyond. SXSW, established in 1987 in Austin, Texas, is a highly regarded festival that presents and celebrates the convergence of the interactive, film and music industries.
Pefin, a fully integrated and comprehensive financial advice and planning service, relies on its patent-pending AI platform to provide 24/7 real-time information for its users. It is redefining the face of finance and removing stigmas attached to money management. Pefin's mission is to provide financial freedom for everyone regardless of age, education, job status or past mistakes. It is an affordable and effective solution at $10 per month.
Pefin's CTO, Jay Gopalakrishnan, confirms, "The opportunity to showcase Pefin in front of the attendees of SXSW was an ideal scenario. We were able to answer questions, identify concerns people have about their financial lives and actually show them how our platform offers solutions." He continues, "We were also able to address fears about AI technology and explain how we maintain security and privacy for our users."
Catherine Flax, CEO of Pefin says, "Being nominated as an interactive innovator was a great honor, but then to win the People's Choice award has been enormously encouraging because Pefin is truly transforming the way people interact with their money. This is a fully comprehensive and interactive experience allowing people to make financial decisions based on the most current information available. We are actually democratizing money and creating a paradigm shift in the financial market by giving our users affordable and attainable solutions through artificial intelligence."
As a result of the nomination, the creative team at Pefin took the opportunity to launch its new brand campaign. The 'Pefin Guy' series of video and stills were prevalent on their social platforms, in television commercials and in print in Austin just prior to and during SXSW. According to Ramya Joseph, the founder of Pefin, "The results of the campaign significantly increased our social media reach and, I believe, contributed to our level of success as first time attendees at SXSW."
To celebrate the award from SXSW and extend their gratitude to the people who voted for them, Pefin will be offering free subscriptions for a limited time. No credit card is required. https://www.pefin.com/signup Pefin's experience at SXSW can be seen here, https://www.pefin.com/sxsw/.