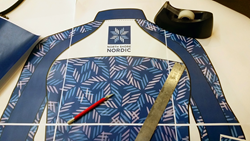 BOSTON (PRWEB) March 22, 2018
As the rest of New England eagerly anticipates the coming of Spring, the team at North Shore Nordic Association is working hard to bring their third season of grooming local community ski trails to a successful close. Nor'easters and all, it's hard but rewarding work.
When designer Carol Catalano founded the organization with her husband back in Fall 2015, it was a completely new venture for her, but her years of experience as a product designer and founder of Catalano Design proved valuable in the formation of NSNA. Now, after three winter seasons of work with NSNA and her North Shore community, Catalano reflects on how she put the process of 'design thinking' to work in a totally new environment, the non-profit world. "Design thinking" is a five-pronged approach to the creative process driven by empathy, ideation, and exploration rather than linear innovation. Catalano Design used the components of design thinking - empathize, define, ideate, prototype, and test - to establish a clear brand and organizational model for NSNA, using many of its steps in both early and later stages of the organization. At the core of this work was a clear-eyed focus on the North Shore community and its needs.
This month on the Catalano Design site, Catalano shares her process and the positive progress NSNA has made as a result of putting design thinking to work with and for her community. North Shore Nordic's all-volunteer staff, local community members, and skiers are a new audience for Catalano Design, but by using a familiar tool to engage this audience Catalano was able to efficiently collaborate with the NSNA team to establish and expand standard practices that have carried the organization through its first three years and set it up for continued success. We encourage you to visit http://www.catalano.design to read the article for yourself to see how this essential design industry tool can be effective in non-profit work.
About Catalano Design
Founded in 1987, Catalano Design is an award-winning, full-service product design and development firm located in Boston, MA. The company fosters long term relationships by working closely with clients to understand their culture, their technology, and their markets. The company's philosophy is that good design is a careful balance of art, science, and craft supported by exceptional, user-centered research. This philosophy is expressed through a design process that focuses on user experience, ergonomics, out-of-the-box thinking, and sound execution.
Catalano Design has created successful designs for many clients who are recognized leaders in their respective markets, including Samsung, Herman Miller, Geiger International, Dexter Russell, D'Addario, Fishman, Hifiman, Essio, Zildjian, Russound, Boston Acoustics, Sunfire, Bay Audio, Pro Brand International, and the Institute for Human Centered Design. Catalano's work has been recognized by IDEA, the ID Magazine Awards, the European Product Design Awards, Business Week, Interior Design Magazine, Abitare, A Place to Sit Competition, and the International Furniture Design Competition.