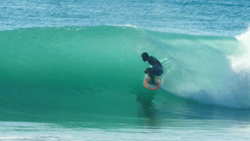 "Surf 'n Gourmet TV series appeals to foodies, travelers and surfers, as well as lovers of adventure, good food and exotic locales, this keeps Surf 'n Gourmet in the prime TV program lineup."
(PRWEB) March 22, 2018
Surf 'n Gourmet, a travel and food reality TV show, combines a surfing adventure with unique local cuisine as seen through the eyes of chefs who love food, surfing and life. Shot in gorgeous High Definition video, the cinematography captures the beauty of the locations, incredible surfing and mouthwatering images of the food. See Video News Release.
Episode 1 takes us to the northwest corner of Puerto Rico. Known to surfers as the Hawaii of the Atlantic, this area has some of the best and biggest waves in the world. We sample the island's funky roadside "Empanada Stands" and the out-of-the-back-of-the-car "Pincho Grills". We also talk with a James Beard Award winning chef, Jeremie Cruz, at one the area's finest dining establishments.
Episodes 2 and 3 are in production with locations in Northern California and Peru, including surfing and cuisine in Lima, as well as Chicama, where the longest left breaking wave in the world is found. The season finishes with episodes in France, Spain, Barbados, Portugal, and Ireland.
This TV series appeals to foodies, travelers and surfers, as well as lovers of adventure, good food and exotic locales, which keeps Surf 'n Gourmet in the prime TV program lineup. Surf 'n Gourmet targets male and female viewers in the 18-49 demographic.
Airing domestically in the U.S. on Discovery Life Channel Q3 '18 and Internationally on Australia Plus Television, Japan- NHK Sports Q4 '18, as well as many additional international markets. The show will reach over 400,000,000 viewers. Check your TV listings for local air times. Surf 'n Gourmet also reaches over 200 million viewers through its online PR/SEO digital outlets.
About sponsor:
See Puerto Rico – See Puerto Rico, the island of exciting discoveries, history, fun and adventure! An unforgettable journey through majestic centuries-old castles, epic zip lining cables in spectacular rain forest, a wide range of exquisite dining and the best beaches in the Caribbean.
About Working Title Media:
Working Title Media is an award winning, full service, high definition, digital Production Company based in Melbourne Beach, FL, that produces TV programming, commercials and corporate branding videos using the latest cutting edge video technologies. In production for over 25 years, Working Title Media brings its creative teams' experience and talent to every project.
For sponsorship and general information:
Contact: SNG@workingtitlemedia.com, phone 321-327-7673.
Jennifer Jacono, Producer at 321-544-8043, Florida.
Dennis Burton, VP Sponsorship and Product Placement at 818-731-3267, California.
Bob Smith, Executive Producer, at 954-270-6901, Delaware.