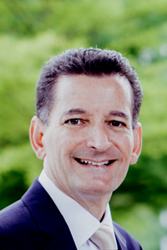 Employees are a company's most valuable asset.
WAKE FOREST, N.C. (PRWEB) March 23, 2018
Corporate Chaplains of America (CCA) announced today that it has appointed David Ready as Vice President of Donor Development effective March 1, 2018.
David Ready joins CCA with a diverse background of effective leadership in both non-profit and for-profit organizations. After spending 20 successful years in the technology field, David sold the IT business that he founded to follow God's calling into full-time ministry. He went on staff for a non-profit, faith-based ministry that provides Biblical hope and help for marriages and families around the world. David was responsible for directing a team of Major Donor Development Officers who raised millions of dollars each year to help underwrite the ministry.
As the Vice President of Donor Development, David will be responsible for advancing donor development and fundraising for the organization. David's experience, insights, and relational skills will position CCA to expand its reach and boundaries. Based out of Little Rock, Arkansas, his role will help fund new growth areas important to fulfilling CCA's mission.
Jason Bates, CCA's Chief Growth Officer, said today, "I am excited to have someone I've known for some time and partnered with in the past to join our team here at CCA. David has both a business and development background. He is a proven leader and a great addition to the team."
Corporate Chaplains of America is a 501(c)3 non-profit ministry and the Nation's leading provider of full-time chaplain services for companies and their employees.  CCA chaplains are available 24/7/365 to provide permission-based, confidential help in times of crisis. Chaplains also offer employees confidential care in marriage, divorce, spousal and child abuse, financial and budgeting matters, death and dying.
CCA recognizes that employees are a company's most valuable asset. Valuing employees and prioritizing company culture takes more care than ever. CCA serves over 1,200 work locations in 42 different states and has more full-time chaplains than any other organization in the country. What sets CCA chaplains apart is the long-term relationship that is built between employees and their chaplain over the years.  Many employees describe their chaplain as a part of their family or a close friend.
For more information about utilizing a chaplain for your company, visit CCA's website at http://www.chaplain.org.