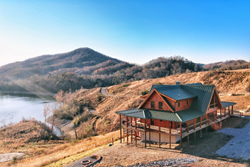 Rental owners and property managers want to control their booking-through-checkout, build their online brand, and communicate with renters.
Tennessee (PRWEB) March 22, 2018
RentTennesseeCabins.com joins the JM Creative Group, LLC (JMCG) family of industry-leading book-direct regional vacation rental listing websites. The company is pleased to announce a year of success and visibility in the Tennessee cabin rental market.
Since RentTennesseeCabins.com launched in March of 2016, the site has been combatting the unwanted trend of online booking websites that obscure rental owners' and managers' contact information, building a wall between them and potential renters.
"Since 2009, we've been listening to what owners, managers and renters wanted in a listing website. Rental owners and property managers want to control their booking-through-checkout, build their online brand, and communicate with renters. Travelers want the best price, local advice, and a fast response to inquiries," says business founder Joe Mogensen.
Following a tried-and-true method that has proven highly successful in veteran states such as Wisconsin (http://www.rentwisconsincabins.com launched in 2009) and Michigan (http://www.rentmichigancabins.com launched in 2013), RentTennesseeCabins.com gives vacation rental owners and managers space to list their rental properties for a low annual fee. The websites eliminate the need for commissions or traveler's fees and provide 100-percent transparency between the parties involved.
This transparency allows owners and managers to promote their own brand and property Website, rather than being lumped in under the umbrella of a booking site brand. In fact, with travelers beginning to grow irritated with last-minute add-ons, commissions and fees that jack their costs (while rental owners and managers receive no boost in revenue), several national hotel chains have joined the #bookdirect movement by advertising their own book-direct options.
Rental owners and managers in Tennessee have responded positively to their experience listing with RentTennesseeCabins.com. Said one Tennessee vacation rental owner, "Middleman booking websites forgot who their customers were. Thanks for launching a book direct website for Tennessee vacation rental owners."
Vacationers have also noticed a marked difference in the vacation planning and booking experience available through RentTennesseeCabins.com, especially taking note of the added value of being able to communicate directly with owners and managers during the initial planning stage. One vacationer wrote to say, "I found the perfect cabin for my boyfriend's birthday on RentTennesseeCabins.com. Great to speak with the owners who gave me advice on where to golf and fish."
RentTennesseeCabins.com offers members the option to enroll in text alerts, allowing individual property owners and managers to compete with the convenience and immediacy of an online booking model. Online chat messaging will soon be available to enable real-time conversations between renters and owners and managers.
Since the launch of its first state-specific rental listing site, JMCG has continued to roll out regionally-focused sites on a state-by-state basis. This may seem like taking the long way around — particularly for the rental owners and managers that have already reached out to inquire when a listing site will be launched in their own state. However, their state-by-state approach allows each website to compete with larger booking sites on a regional level due to a higher volume of more specific search terms. For example, RentTennesseeCabins.com sees more than a million impressions in Google search results per year from travelers who are specifically searching for lodging and accommodations in Tennessee.
One of the most popular keywords, "Tennessee Cabins" has shown a gradual and steady increase in usage over the past five years (via Google Trends) as renters continue to search for more unique and authentic vacation experiences. Benefiting from this changing trend, RentTennesseeCabins.com has seen an increase in site views from just over 11,000 between 2016 and 2017 to more than 35,000 between 2017 and 2018. Collectively, the company's websites surpassed 1.3 million views. The US Lodging Market is $164 billion.
With another year's success under its belt in Tennessee, JMCG looks forward to the launch of multiple new state-specific vacation rental listing sites in 2018.
About JM Creative Group, LLC
JMCG currently owns six regionally-focused, book-direct vacation rental listing sites in:

The Middleton, Wis., company has plans to launch multiple new sites in 2018 and a mobile APP. See all of their regional websites at http://www.itscabintime.com. Contact Joe Mogensen at jmogensen(at)jmcreativegroup(dot)com, or (608) 850-4242 for more information.