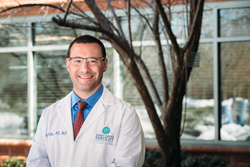 The need for specialized and individualized fertility services in Philadelphia is what prompted the opening of our newest location in Center City.
PHILADELPHIA (PRWEB) March 22, 2018
Shady Grove Fertility announced today that its newest full-service office in Center City, Philadelphia is scheduled to open next month. This will be the practice's sixth full-service office in Pennsylvania. The Center City location will bring a broad array of services to the Philadelphia community, offering convenient access to state-of-the-art diagnostic testing as well as low and high-tech treatment options including intrauterine insemination (IUI), in vitro fertilization (IVF), donor egg treatment, and egg freezing. This location will also expand SGF's robust donor egg recruitment program; SGF recruits and prescreens (medically, psychologically, and genetically) all of its prospective egg donors prior to making them available on the SGF donor registry.
Board certified reproductive endocrinologist, Caleb Kallen, M.D., Ph.D., joined Shady Grove Fertility in March 2017, and will be seeing patients at this new location. Dr. Kallen earned his medical degree and doctorate in philosophy (Molecular and Cellular Biology) from the University of Pennsylvania before completing his residency training in obstetrics and gynecology at the Hospital of the University of Pennsylvania in Philadelphia. Dr. Kallen completed his subspecialty training in reproductive endocrinology and infertility at Yale University in New Haven, Connecticut.
"The need for specialized and individualized fertility services in Philadelphia is what prompted the opening of our newest location in Center City. We look forward to expanding our practice to the Philadelphia community and helping even more people achieve their dream of parenthood," says Dr. Kallen.
"Dr. Kallen was very informative and focused on our physical and emotional well-being through the whole process. My thoughts and input were welcome throughout the treatment process. I have already recommended him to others," shares a patient of Dr. Kallen's.
"Dr. Kallen was fantastic, helpful and kind. I really appreciate how much time he spent with us up front, explaining, in the detail we wanted, our options. The entire Shady Grove Fertility team was wonderfully kind and generous with their time and made us feel like a family member, even though we, luckily, were only there for a short time," adds another Dr. Kallen patient.
One of Shady Grove Fertility's top priorities is making access to fertility care more affordable, which is why they created innovative financial programs for their patients such as their signature Shared Risk 100% Refund Guarantee and Shared Help Programs. For those patients with insurance benefits, Shady Grove Fertility accepts over 30+ insurance providers. In fact, 90 percent of patients with insurance will have coverage for their initial physician consultation, and 70 percent will have at least some level of coverage for fertility testing and treatment.
"Offering patients innovative financial options and affordable treatment packages are cornerstones of our practice so that cost does not become a barrier to pursuing important fertility care," adds Kallen.
Shady Grove Fertility continues to expand in Pennsylvania with the recent addition of a full-service office in Warrington, PA last year and a new office in Lancaster, PA slated for the fall 2018 opening.
Located at 1515 Market Street, Philadelphia, PA 19102, patients may now schedule an appointment with Dr. Kallen by calling the Shady Grove Fertility New Patient Center at 1-888-761-1967. For other PA locations and physicians, including Dr. Isaac Sasson, Dr. Ryan Martin, Dr. Melissa Esposito, Dr. Lauren Roth, and Dr. Kara Nguyen, please call 1-888-761-1967 or submit this brief online form.
About Shady Grove Fertility (SGF)
SGF is a leading fertility and IVF center of excellence with 50,000 babies born and counting. With 41 physicians and 29 locations throughout MD, PA, VA, GA, and D.C., we offer patients individualized care, innovative financial options, and pregnancy rates among the highest of all national centers. More physicians refer their patients to SGF than any other center. Call 1-888-761-1967 or visit ShadyGroveFertility.com.