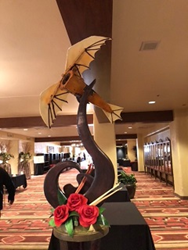 ALBUQUERQUE, N.M. (PRWEB) March 21, 2018
Chocolate, chocolate, and more chocolate! All eyes are on Isleta Resort & Casino as its Bakery Team proves once again, they are the king of chocolatiers. The team presented their most recent all-chocolate creation at Chocolate Fantasy, an annual fundraiser benefiting the New Mexico Museum of Natural History Foundation.
This year's theme for the fundraising competition was DaVinci Creations, inspired entirely by Leonard da Vinci. Chocolatiers from across the State of New Mexico were tasked with creating a sculpture entirely from chocolate, as well as creating hundreds of sample pieces for attendees to enjoy. The Isleta sculpture stood approximately four feet tall and was titled, "Mind of a Genius." Surprising many attendees, even the marble-looking base was, in fact, made from chocolate. The Isleta team took great care with each detail, even attaching a chocolate plane to the top of the creation, which was of course, inspired by da Vinci's flying machine invention.
One thing's for sure, this team KNOWS chocolate! Their sculpture was awarded the following medals:
1st Place Most Artistic Sculpture
1st Place Best Tasting Samples
People's Choice Award Most Artistic Sculpture
People's Choice Award Best Tasting Sample
Best In Show
From wedding cakes to cannolis and beyond, the Isleta Bakery Team is quickly becoming a well known source for delicious and beautiful creations.