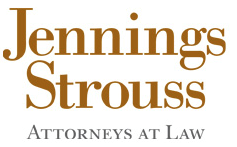 PHOENIX (PRWEB) March 22, 2018
Jennings, Strouss & Salmon, P.L.C is pleased to announce that Tracy D. Als has joined the firm as Director of Human Resources.
Als is a dynamic, versatile leader with more than twenty-five years of demonstrated success in the legal industry. Her experience covers the entire spectrum of human resources, with a strong focus on fostering a healthy and happy workforce while assisting the firm with strategic growth. Als utilizes her interpersonal communication, management, and leadership skills to develop, build, and maintain critical relationships involving clear communication, persuasion, diplomacy and, most of all, trust.
"Tracy is an excellent addition to the firm's administrative management team," states John Skewes, Chief Operating Officer of Jennings Strouss. "Her knowledge of current regulations and trends in Human Resources, coupled with her business sense, enables the firm to maintain its strong workforce and focus on adding qualified personnel to support our growth."
Tracy enjoys being a part of a team, learning from strong leaders, contributing to strategy and operations, and collaborating with all departments outside of human resources to keep morale high, clients happy, and the firm growing.
"It's a privilege and honor to work for such a prestigious firm," states Als. "I look forward to a long tenure with Jennings Strouss."
Als currently serves as Vice President of the Association of Legal Administrators (ALA)-Arizona Chapter, and is a member of the Maricopa County Bar Association, Society for Human Resources Management (SHRM), and NALS, the Association for Legal Professionals.
About Jennings, Strouss & Salmon, P.L.C.
For over 75 years, Jennings Strouss has been dedicated to providing clients with strategic legal guidance to help them seize every opportunity. The firm is well-known for its rich heritage, commitment to community, and long-lasting relationships. We have a deep understanding of business and law. When you work with us, you'll have a team of legal experts who are dedicated to your vision of success.
Through our offices in Peoria, Phoenix, and Tucson, Arizona, and Washington, D.C., we leverage resources both regionally and nationally to serve our expanding client base. Jennings Strouss is deeply rooted in each of our locations' legal and business communities, and especially instrumental in helping shape the dynamic growth of Arizona and many of its institutions. The firm promotes a pragmatic, results-oriented approach, coupled with a healthy, well-managed, and friendly atmosphere of collaboration.
Our primary areas of practice include advertising and media law; agribusiness; automobile dealership law; bankruptcy, restructuring, and creditors' rights; construction; corporate and securities; eminent domain and condemnation; employee benefits and pensions; energy; family law and domestic relations; finance; health care; intellectual property; labor and employment; legal ethics; litigation; professional liability defense; real estate; surety and fidelity; tax; and trust and estates. For additional information, please visit http://www.jsslaw.com and follow us on LinkedIn, Facebook, and Twitter.