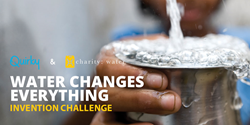 "If we can harness the collective creativity of these inventors to reinvent and innovate these products we can make an impact that really moves the needle on an important cause." - Gina Waldhorn, President of Quirky
NEW YORK (PRWEB) March 22, 2018
The community-led invention platform Quirky and non-profit charity: water have launched the Water Changes Everything Invention Challenge on Quirky.com. The partnership represents the first time the community will be inventing a product where a portion of the profits from each sale will be donated to a charitable organization.
The charity: water mission – to bring clean and safe drinking water to people in developing countries – struck a chord with the Quirky community of more than 1 million members, who were polled and named charity: water one of the top charities they wanted to invent for. By inventing products that directly maximize the efficiency and effectiveness of how we interact with water daily, Quirky aims to bring awareness to the water crisis and charity: water's mission while creating useful products people will want to buy.
"We have a million Quirky members who utilize different water related products every single day," said Gina Waldhorn, President of Quirky. "If we can harness the collective creativity of these inventors to reinvent and innovate these products we can make an impact that really moves the needle on an important cause."
On the invention challenge webpage, Quirky gives inspiration and examples to help participants get started, including products for: brushing teeth, taking a shower, washing the dishes, watering the plants, doing laundry, or even draining pasta. Quirky is accepting inventions until April 23rd, 2018, and will select the winning invention in May.
In addition to donating a portion of the profits from all product sales, Quirky is giving inventors the ability to donate their earned royalties on all inventions submitted on the website to charity: water, donate directly to charity: water through a dedicated page, and enabled shoppers on the Quirky shop to add a donation upon checkout.
The Quirky and charity: water Water Changes Everything Invention Challenge kicks off on World Water Day, March 22nd and closes on April 23rd. Click here to learn more and submit your idea to the challenge.
About Quirky: Founded in 2009 with a mission to "make invention accessible," Quirky brings new products to market by connecting a global community of inventors to established manufacturers. At the nexus of technology-enabled cultural trends like the maker movement, community creativity and the demand for meaningful product backstories, Quirky has challenged the status quo of invention to become a major force in the product development landscape. Quirky has launched more than 150 products across categories including electronics, home and kitchen, and has more than 1 million active community members who share in the $11MM+ product royalties to date.
About charity: water: charity: water is a non-profit organization bringing clean and safe drinking water to people in developing nations. Since 2007, the non-profit has funded nearly 23,000 projects to serve more than 7 million people across 24 countries.
Media Contacts:
Quirky: Lissa Regets, lissar(at)quirky(dot)com, (480) 241-9550
charity: water: Anna Stock-Matthews, anna.stockmatthews(at)charitywater(dot)org
Galila Gray, galila.gray(at)charitywater(dot)org