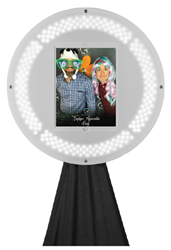 The Trade Group announces the Ritratto Photo Booth, a new self-service photo booth that adds fun, shareable moments to any event.
DALLAS (PRWEB) March 23, 2018
One of the best ways to encourage prospects to engage with at live events is to set up a fun, interactive experience in a branded space. While photo booths have been popular at trade shows, brand activations and other live events for years, The Trade Group's Ritratto Photo Booth was designed with more than entertainment in mind.
Like other photo booths, the Ritratto brings the fun, but it also makes it easy for brands to amplify their message. Thanks to social sharing opportunities and automated data gathering, companies are ahead of the game when the time comes to market to attendees following a show or event. As an added bonus, the Ritratto Photo Booth couldn't be easier to use.
Ten reasons to rent a Ritratto Photo Booth for an event:
No. 1: No-fuss, iPad-based system. Launching the Ritratto is a breeze - all that is needed is an electric outlet. The Trade Group will even create the branded overlays and set up the software so that the system is ready to roll.
No. 2: Sleek, modern, customizable design. The Ritratto Photo Booth's standard design features a sanded, clear-coated, birch wood finish and an adjustable light ring. While this blank slate is quite lovely on its own, TTG offers custom vinyl finishes/graphics and an assortment of color options to complement the brand.
No. 3: Lightweight system. The circular frame and iPad weigh in at less than 50 lbs. Plus, the Ritratto packs down neatly into a padded storage case, so it's easy to take on the road. Whether shipping it along with a 50'x50' exhibit or bringing it to a one-day event, Ritratto travels easily.
No. 4: One-person set up. As noted above, no heavy lifting is needed, and software is preinstalled and ready to go. All that is needed is unpacking the unit, setting the photo booth up (using the optional stand or by hanging it on a wall), turn the iPad on, and it's time for the fun to begin.
No. 5: No attendant required. All guests need to do is follow the simple steps displayed on the iPad, enter their contact information, snap a photo and go. This feature is especially helpful during busy trade shows and events when staff is occupied with other guests or duties.
No. 6: Small footprint. Whether there is limited floor space or a large exhibit that is packed tight, Ritratto's small footprint offers plenty of flexibility, so it can be installed in just about any size space or venue.
No. 7: Customizable experiences. The Trade Group knows how to show guests a good time and can make recommendations for backdrops, green screens, props and other essentials to create a memorable, branded experience guests will be sharing and talking about during and after the event.
No. 8: Simplified lead gathering. As mentioned earlier, the iPad-based solution makes it easy for guests to email and share digital photos. At the same time, that same streamlined interface automatically captures emails, so brands can reach out to those leads with promotions, drip campaigns and other information in the future.
No. 9: Available for purchase or rent. While most prefer to rent photo booths, TTG also offers the Ritratto for purchase. Depending on how many events a brand has on their calendar, purchasing may be a more cost-effective option.
No. 10: Support. Whether ideas are needed for customizing the photo booth experience, or training for staff is needed, TTG representatives are available to assist.
To learn more about the Ritratto or other photo booth experiences available for purchase or rent, give The Trade Group a call at 800-343-2005 to speak with a sales consultant today.
ABOUT THE TRADE GROUP
The Trade Group is a full-service event marketing company, specializing in trade shows, indoor and outdoor events and experiential solutions. With 30 years in the industry and winning a multitude of awards across the globe, the organization helps clients share their unique stories through a comprehensive suite of solutions that includes: exhibit design and fabrication, graphic design and production, exhibit management, digital applications, experiential marketing activations, event coordination and production, videography, strategic marketing and more. To learn more, visit http://www.tradegroup.com.