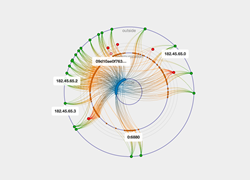 Now with one click, SOC and incident response teams can automatically see a map stitching together what happened according to the clues spread across each of these systems.
SAN FRANCISCO (PRWEB) March 22, 2018
Ahead of the NVIDIA GPU Technology Conference and the RSA Conference, Graphistry Inc. is unveiling the industry's first accelerated visual investigation environment to bring together tools like Splunk and Elasticsearch. With this visual fusion of data, Graphistry breaks high-value data sources out of their silos, and provides analysts with interactive, 360° views across all of their data.
Graphistry pioneered the use of modern NVIDIA GPUs for accelerating visual security investigations, allowing analysts to work with 100x more data, and the platform makes handling that data simple, interactive, and thorough by introducing intelligent graphs and visual playbooks. For enterprise cybersecurity and anti-fraud teams, the announcement means an end to the frustrating daily deep dives across multitudes of tools, data tables, and logs.
Joshua Patterson, director of AI Infrastructure at NVIDIA, will be unveiling the details behind "Extending Splunk with GPUs" at GTC next week. "I began working with Graphistry when they emerged as one of the first cloud generation GPU analytics startups. They've been one of the leaders in security and fraud visual analytics ever since, including protecting some of the world's largest enterprises. Every operational data-driven team is entering a period where they are ripe for a GPU-accelerated compute revolution."
Graphistry, Inc.'s announcement means security teams will be able to quickly see the digital trail that hackers leave behind. Today, analysts must manually switch between querying tools like Splunk and Elasticsearch and threat intelligence APIs like VirusTotal. Now with one click, SOC and incident response teams can automatically see a map stitching together what happened according to the clues spread across each of these systems. For advanced threat hunters and threat analysts who need to understand the patterns and outlier across even broader swaths of data, Graphistry is the first tool capable of showing the many connections across entire data sets on one screen.
"Visual analytics across many security tools, databases, and APIs delivers the next step of our vision of a supercharged end-to-end analyst experience, " explains Graphistry's CEO and co-founder, Leo Meyerovich. "Today, teams face a lot of pain when adding new tools to their data stack or need to access data from outside teams and vendors. We help them avoid headaches around learning and manually querying yet another system, and provide an easier on-ramp when where new systems can be used even if they don't have the whole picture. We're seeing a lot of ground-level excitement because, by breaking down tool barriers, we're quickly multiplying the value of mixing data, people, and tools."
About Graphistry, Inc.
As a spinout of UC Berkeley's Parallel Computing Lab, Graphistry, Inc. is supercharging how organizations interact with their data. Powered by NVIDIA GPUs, Graphistry's investigation platform creates visual fastpaths through complex investigations by transforming diverse data into interactive graphs that visual answer difficult questions like correlations, scope, progression, root cause, patterns, and outliers. Ideally suited for investigations in areas like cybersecurity incident response, threat hunting, retail anti-fraud, and anti-money laundering, Graphistry enables analysts to easily find hidden connections, pivot on the fly, and share their findings with other teams. Graphistry, Inc's investors include Bloomberg Beta, Nvidia, In-Q-Tel, Greylock Partners, and angel investors including Prof. Kurt Keutzer (UC Berkeley, ex-CTO Synopsys), Andy Chou (founder & ex-CTO Coverity), and Patrick O'Malley (CFO Seagate). The company's headquarters are in San Francisco, California with a satellite team in Austin, Texas. More information can be found at http://www.graphistry.com .
Contact
Wade Williamson, 408-203-2939
Director of Marketing
###
Graphistry is a registered trademark of Graphistry, Inc. in the United States and other countries. All other brands, products, or service names are or may be trademarks or service marks of their respective owners.