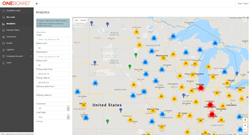 This software is a true game changer – an indispensable addition to fleet owners that will really revolutionize the way they go about handling their business. These guys deserve more profits and loads, and this software can deliver just that.
BROADVIEW, Ill. (PRWEB) March 22, 2018
The trucking industry has been plagued with time and profit inefficiencies, and ONEBOARD finally puts these issues to rest. It consolidates and simplifies the exorbitant volume of data required by dispatch operations, while reducing the exhausting time and effort needed to manage it all! ONEBOARD instantly takes the hassle out of juggling multiple load board accounts and emails to organize and neatly arrange them all in one place.
The key benefits of the revolutionary ONEBOARD software include:
1. An increase in efficiencies because of the simplification and consolidation of voluminous data that dispatchers deal with daily.
2. A tremendous increase in profitability resulting from the ability to take on additional loads. Current users estimate a minimum of three additional loads per week resulting from the use of ONEBOARD. With an estimated average revenue of $1,600.00 per load, three new loads per week amount to nearly $500,000.00 in incremental annual revenue. And this increased business DOES NOT REQUIRE additional overhead.
3. Users can expect their dispatcher/truck count ratio to dramatically increase and book more loads in half of time.
4. Additional revenue can be invested in new equipment, facilitating company growth.
ONEBOARD's subscription-based software features the first-of-its-kind load board consolidation technology that lets users pick and choose their load priorities effortlessly all in one place. In addition, patented email-parsing technology will sort through the countless load offer emails and seamlessly organize them in an "Available Loads" screen on the ONEBOARD dashboard.
ONEBOARD also provides a "hot loads" map, allowing users to see exactly where "hot" loads are located, so they can plan ahead and have them waiting for their drivers.
Based on the personalized needs of the user, ONEBOARD allows for both internal and external communication through the dashboard's convenient text, email and phone features. Hands-on software training and dedicated attention from seasoned sales professionals are included.
"In an industry that's flooded with 'me too' software, our team knew we wanted to create something unique and special. There have been too many headaches fleet owners have had to face, but too few solutions that actually solved them," stated Geo Forton, President and CEO at UTECH GLOBAL, LLC.
Mr. Forton continues, "It's taken two years of complex algorithmic coding, 500 tireless beta-test runs by dispatchers, and a US patent to boot, but I'm incredibly proud to present our groundbreaking work in ONEBOARD. This software is a true game changer – an indispensable addition to fleet owners that will really revolutionize the way they go about handling their business. These guys deserve more profits and loads, and this software can deliver just that."
For more information, visit http://www.myoneboard.com or call 888.228.4460. Request a copy of our ONEBOARD information sheet.
NOTE TO EDITORS: A personal software demo can be arranged for editors of qualified publications, websites, newsletters or blogs. To schedule your demo, please call Lisa Leslie at 773.981.1256 or email lisa.leslie(at)utechcorp.com.
About UTECH
Formed in 2015 to provide products and services for the transportation industry, UTECH GLOBAL, LLC focuses on creating the tools needed to optimize automation and dispatching efficiencies for both carriers and brokers. This allows UTECH customers to focus their time and resources on those activities that increase profits or help improve the lives of others.
UTECH GLOBAL, LLC software and technology experts are deeply experienced with the intricacies of operations in the transportation field, allowing them to create business tools to reduce costs and enhance profitability. UTECH GLOBAL, LLC offers custom development, design and business consulting services to the industry, however their main offering is a proprietary suite of software and hardware solutions: UTECH TMS, GPSTab, and the GPSTab ELD Edition for ELD compliance. And now, UTECH GLOBAL, LLC adds ONEBOARD™ to its product line-up - the industry's most advanced and unique dispatching software of its kind. As an experienced technology provider, UTECH GLOBAL, LLC assists its customers beyond its own software and hardware product offerings with expert support.
UTECH GLOBAL, LLC is one of the industry's newest, and yet, leading innovative software and technology developers. The company is making significant strides in its own development and growth and has earned its place as a prominent technology supplier to the transportation and logistics industry. With facilities in Broadview, IL and Long Beach, CA, the company is strategically located at major transportation hubs for air, sea, rail and trucking industries. These locations are expected to have future importance as the company addresses other customer markets with new software and hardware solutions.