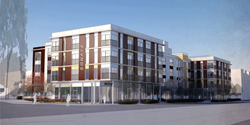 "Homebuyers will be able to take advantage of a low earnest-money deposit structure, with just 5 percent down payment and total monthly housing costs that are similar to prevailing rents in the area," says Dean Jones, President & CEO, Realogics Sotheby's International Realty.
SEATTLE (PRWEB) March 22, 2018
Sonata Condominiums will soon offer 96 new flats for sale in Columbia City, one of Seattle's most nostalgic, diverse and thriving communities. Groundbreaking is set for summer 2018 with delivery by the end of 2019.
For sale by BDR Urban LLC, a division of the well-known luxury homebuilder, Sonata Condominiums will include studio, urban-one-bedroom, one-bedroom, one-bedroom-plus-den, and two-bedroom home designs that range in size from less than 400 to more than 1,000 square feet. Introductory prices range from the high $200,000s to more than $800,000.
"Homebuyers will be able to take advantage of a low earnest-money deposit structure, with just 5 percent down payment and total monthly housing costs that are similar to prevailing rents in the area," says Dean Jones, President & CEO of Realogics Sotheby's International Realty. "Not to mention the opportunity for income-tax deductions and the prospect for capital appreciation in the rapidly-rising housing market that has become synonymous with Seattle real estate."
"If you are looking to own a new condominium home just moments from downtown Seattle, we've got your address," Jones added. "Sonata will offer single-level living at affordable price points in one of the most walkable and convenient neighborhoods with immediate proximity to the Columbia City Station for the LINK Light Rail system."
Jones also points to a $50 billion Sound Transit expansion plan that would, over the next decade and beyond, connect many exurban communities via light rail.
"While downtown Seattle is already just 15 minutes away by train, residents of Sonata will not need to leave their community for a decidedly urban lifestyle," he says. "And if they have a car, there's ample parking within the underground structure."
First incorporated in 1893, Columbia City was annexed to the city of Seattle in 1907 and was added to the National Register of Historic Places in 1980 as the Columbia City Historic District. A bustling commercial center along Rainier Avenue South includes bars and music venues, a full-service grocery store, bakeries and coffee shops, a movie theater, fitness facilities, art galleries and other residential services.
The community is home to three primary and secondary schools, the Boys & Girls Club, the Rainier Valley Community Center, and the 57.7-acre Genesee Park and Playfield, which connects Columbia City to Lake Washington and is home to the annual Seafair Hydroplane Races. Other popular events include the Rainier Valley Heritage Parade and Summer Streets Party and the Farmer's Market.
The floor plans at Sonata Condominiums will include open living spaces and oversize windows. Interiors will boast engineered hardwood floors, quartz countertops in the kitchen and stainless steel appliances, with several color scheme choices and other personalization options.
Common area features and amenities include underground parking, controlled-access entry, a community bike room and tuning area, a guest suite, a great room with a screening area, a fitness studio, and a rooftop terrace with outdoor fireplaces and barbecues. The lobby will feature a concierge station and adjacent co-working lounge.
"Condominiums like Sonata offer owners a vertical village of amenities and services not found in single-family or townhome alternatives, assuming you can even find a property at this price point," Jones notes. "The lock-and-leave lifestyle is so convenient, and there's a spirit of place as neighbors converge within the common areas. It's no wonder condominiums are generally trading at higher values per food - it's not just about the home itself but an entire community that becomes part of the proposition."
Prospective buyers can reserve a home at Sonata in advance of presales. A reservation agreement is offered in exchange for a fully refundable $5,000 deposit held in escrow that confirms a particular home with a set price range. The agreement grants a first right of opportunity to enter into a presale once the developer and contractor confirm the product offering.
Reservations will begin soon and will take place at the New Development Preview Center at 2715 1st Avenue in downtown Seattle. Additional details will soon be posted at: SonataCondoLiving.com.
###
About BDR Urban, LLC (http://www.BDRHoldings.com) - BDR Urban, LLC, is a division of the well-known regional builder, BDR Holdings. BDR is a family of independent companies dedicated to excellence in development, construction and investment. Since its founding, BDR has built over 2,000 residences in the Greater Seattle area, ranging from modern and traditional custom homes to some of the region's most innovative and thoughtfully designed multi-family communities. BDR Urban is wholly devoted to creating housing solutions that best serve the contemporary, in-city buyer with an emphasis on thoughtful and efficient design, careful siting and access to transportation options and neighborhood amenities.
About Realogics Sotheby's International Realty (http://www.RSIR.com) - Realogics Sotheby's International Realty is a leading global sales and marketing brokerage firm in the Pacific Northwest that specializes in new condominiums. Recognized by the Puget Sound Business Journal amongst the fastest-growing private companies in Washington State during the past five years, the boutique real estate firm of 220+ brokers consistently rank among the top producing firms within the markets that it serves with branches in downtown Seattle, Bainbridge Island, Kirkland, Issaquah and Madison Park.
EDITORS NOTES: For high-resolution photography, video, floor plans and new renderings of Sonata Condominiums contact Whitney Heffernan at 206.448.5752 or email Whitney(dot)Heffernan(at)RSIR.com.