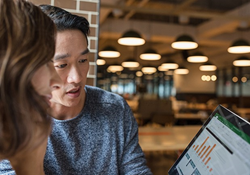 Microsoft 365 Business is a great solution for smaller businesses that want improved productivity and enhanced security across all their employees' devices.
HOBOKEN, N.J. (PRWEB) March 22, 2018
A NYC area IT consultant and MSP explains Microsoft's product suite for small and mid-sized businesses, Microsoft 365 Business, in a new article on the eMazzanti Technologies website.
The informative article lays out what's included and who the intended customers are for the business technology bundle with the confusing name. Although the package includes Microsoft Office 365, Microsoft 365 Business is much more, the article says.
Security features, mobile device management, Windows 10 and StaffHub, a new app for scheduling front-line employees, make Microsoft 365 Business an attractive offering at $20 per month per employee.
"Microsoft 365 Business is a great solution for smaller businesses that want improved productivity and enhanced security across all their employees' devices," stated Jennifer Mazzanti, CEO, eMazzanti Technologies. "With no IT staff they can manage company data and communications without having to buy a server."
Below are a few excerpts from the article, "What is Microsoft 365 Business and Who is it for?"
"Microsoft 365 Business is the all-in-one Microsoft package for SMBs, previously only available to Enterprise customers. Throw in 24x7 online and phone support and 99.9% guaranteed uptime and it feels like a sweet deal for $20/month per user."
Help for Front-line Employees and Their Managers
"There are an estimated 500 million frontline staff workers around the world in retail stores, hotels, restaurants, manufacturing and other service-related industries. Far too often, these workers rely on manual processes and outdated tools to create paper schedules."
"Included with Microsoft 365 Business, StaffHub makes it easy for managers to create, update and manage shift schedules for their team, streamlining what has been a labor-intensive process."
Enhanced Security
"With centrally managed devices and security, Microsoft 365 Business helps to ensure that business data is secure. Administrators can set Windows Defender to always be on and wipe data from mobile devices when employees leave, with no disruption to personal data."
How to Get Microsoft 365 Business
Microsoft says that partner-assisted deployment is the recommended way to install Microsoft 365 Business. Business leaders should contact their Microsoft partner and ask them if they are offering the package.
If not, eMazzanti Technologies can help deploy Microsoft 365 Business on all company devices while providing some immediate benefit the Microsoft partner of record. eMazzanti is well-equipped to help business owners understand technology needs and options and make the best recommendations for deploying Microsoft 365 Business in their organizations.
Related resource information:
The Digital Transformation in Manufacturing
Is it Spring Yet? How to Survive a Late Season Winter Storm
About eMazzanti Technologies
eMazzanti's team of trained, certified IT experts rapidly deliver retail and payment technology, digital marketing services, cloud and mobile solutions, multi-site implementations, 24×7 outsourced network management, remote monitoring and support to increase productivity, data security and revenue growth for clients ranging from law firms to high-end global retailers.
eMazzanti has made the Inc. 5000 list eight years running, is a 2015, 2013 and 2012 Microsoft Partner of the Year, 2016 NJ Business of the Year, 5X WatchGuard Partner of the Year and one of the TOP 200 U.S. Microsoft Partners! Contact: 1-866-362-9926, info@emazzanti.net or http://www.emazzanti.net Twitter: @emazzanti Facebook: Facebook.com/emazzantitechnologies.