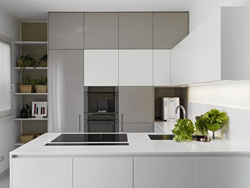 Luxurious and flawless fitted bedrooms and kitchens, tailored to you and your home.
LONDON (PRWEB UK) 23 March 2018
2017, a major upgrade to the fitted furniture industry.
The State-of-the-art, German developed Airtec Edging system is in high demand! Back in the day, it was very popular that people will go up to German studios of fitted furniture to buy their standard kitchens and bedroom furniture. Due to the distance and logistics, it wasn't possible to deliver made-to-order products in the UK and even the German manufacturers did not categorise themselves into bespoke furniture solutions. Although, they had many sizes to choose from off the shelf, they did not provide made-to-order facilities.
During Interzum 2017, held in Germany – under the new products range, the Airtec formula on edge banders began gathering a lot of attention and gained promising reviews. One of the top engineers who were reviewing quoted, "Airtec is the future of the high-end, fitted furniture industry". The system soon became a great success in Q3 2017-18.
Metro Wardrobes are extremely proud to have teamed up with the industry's best in high-tech, woodworking machinery, Ney Ltd. They had the privilege of buying the futuristic German plant and bringing it home to the UK for their Wembley based factory. This means that the products that will be manufactured are assured to be as good of quality as German standard!
At present, the advanced Airtec system is working very well with newly developed Egger Board releases of 2017-19 ranges – producing highly defined products that previous generation systems could have never achieved.
Fitted within 14 days:
Furthermore, with years of experience in the woodworking trade, they have selected few of the best branded companies to work alongside. Such innovative brands include Egger, Hafele, Ney Ltd UK and Ostermann. A strong belief in the UK market, with public always looking for the best quality home improvements. Stock a wide variety of 80 plus beautiful colours and matching accessories in the immense Wembley warehouse.
To understand what true quality means, they welcome you to visit one of the biggest showrooms in the UK and see the final products for yourself.
Metro Wardrobe's "just-in-time" manufacturing process, powered by intelligent inventory management systems enable us to deliver and install bespoke fitted furniture within 14 days of placing an order – which is incredibly fast compared to other national companies.
Buying a Bespoke Fitted Kitchen and made-to-order fitted wardrobes has never been easier with the local fitted furniture specialist, based in Wembley London. Working hand-in hand with builders, interior designers and yourself, to analyse projects and requirements to complete perfection.
The edging technology is the equivalent of a high-quality German brand, in fact much better! Most companies only use 0.4mm edging strips, however, they are one of the very few companies who produce 2mm edging - making products eye-catching and a much better value.
To continue with the topic of advanced manufacturing process, all hinges, handles and fittings come from the exceptional German brand, Hafele. Metro Wardrobes have developed by educating themselves through seminars, business workshops and exhibitions throughout the world to expand knowledge in the industry and serve customers better.
"We trust in our technology and "customer comes first" policy." – James Smith (Director)
Great news! Metro Wardrobes brand-new showroom is open to the public from the beginning of April 2018, with many exhibited fitted bedroom displays and ultra-modern fitted kitchen furniture to choose from. We are also major suppliers of beautiful wood flooring and carpets - providing free quotations and measurements for engineered or solid wooden flooring solutions in a range of vibrant & diversifying colours. Our commitment and experience in the trade for well-known quality & services is what sets us apart from other companies. We produce everything in-house and assure that execution is completely hands-on right from the very beginning to end.
Whatever your wood flooring needs, come and speak to us in our showroom. We are looking forward to meeting you.
All of these features will guarantee to enhance the class of your fitted furniture, whether you are looking for wood flooring or a brand-new kitchen.