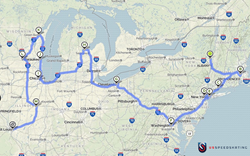 The 19-day tour will pass through 19 speed skating clubs and traverse 2,500 miles across the Northeast, Mid-Atlantic and Midwest.
KEARNS, Utah (PRWEB) March 22, 2018
US Speedskating is pleased to announce the 2018 Tour of Olympians, a mobile caravan that will attract speed skating fans and engage with speed skaters.
The 19-day tour will pass through 19 speed skating clubs and traverse 2,500 miles across the Northeast, Mid-Atlantic and Midwest. Each club will host 2018 Olympians, area alumni and USS representatives for a day before moving onto the next city.
The speed skating-rich town of Saratoga Springs, N.Y. will kick off the tour, the weekend of March 23-25, as over 200 skaters compete in the Short Track Age Group National Championships. Two-time Olympian Jessica Kooreman (Melvindale, Mich.) and Olympic bronze medalist Carlijn Schoutens (Trenton, N.J.) are the first two athletes to join in the fun.
At the conclusion of the weekend, the two USS/Toyota branded vehicles will make their way to the Boston area for an event organized by Bay State Speedskating Club before venturing further south for three days in the Tri-State area (CT, NY, NJ).
Heading into Easter weekend, the caravan will drive down Interstate 95 to the Washington D.C. area and will visit three clubs – United Capital, Dominion and Potomac – along with a morning visit with DC-Ice for their summer program kickoff. All of this will take place on Saturday, March 31 and will begin at 10am.
Moving into April, three-time Olympian Mitch Whitmore (Waukesha, Wisc.) and 2018 Olympian Aaron Tran (Federal Way, Wash.) will takeover as the showcase athletes, while the caravan makes stops in Cleveland, Ohio; Midland, Mich.; Glen Ellyn, Ill.; and Milwaukee, Wisc. from April 2-5.
Rounding out the third stage of the tour will be two-time Olympian Jonathan Garcia (Houston, Texas) and 2018 Olympian Jerica Tandiman (Kearns, Utah). The duo will make four stops in Green Bay, Wisc.; Madison, Wisc.; Champaign, Ill.; and close out the tour in the 1904 Summer Olympics city of St. Louis, Mo.
Tour Dates / City (subject to change)
March 23-25 / Saratoga Springs, N.Y.
March 26 / Walpole, Mass.
March 27 / Shelton, Conn.
March 28 / West Orange, N.J.
March 29 / Flushing Meadows, N.Y.
March 31 / Anacostia, Washington D.C.
April 2 / Cleveland Heights, Ohio
April 3 / Midland, Mich.
April 4 / Glen Ellyn, Ill. (additional athlete: Emery Lehman)
April 5 / Milwaukee, Wisc.
April 6 / Green Bay, Wisc.
April 8 / Madison, Wisc.
April 9 / Champaign, Ill.
April 10 / St. Louis, Mo.
For more information on a local club contact, please use the US Speedskating Club Finder map or email membership@usspeedskating.org.
About US Speedskating
From Pond to Podium, we are US Speedskating. We grow and nurture a sport where all ages can experience the thrill of speed and the camaraderie of the skating community. US Speedskating is responsible for the development of speed skating from grassroots to the highest elite racing programs. US Speedskating is recognized by the United States Olympic Committee and the International Skating Union as the governing body for the sport of speed skating in the United States. The Organization has won 88 Olympic medals to-date, making it one of the most successful sports in U.S. Olympic history. US Speedskating is a 501(c)3 non-profit organization. Follow us on Twitter, Instagram, on Facebook and at http://www.usspeedskating.org.