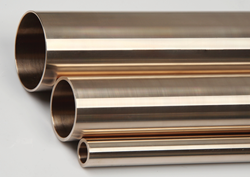 World Class Copper Nickel Pipeline Solutions
(PRWEB) March 26, 2018
Copper Nickel Pipe expert and global supplier of flanges, pipes and fittings made of copper nickel, Shanghai Shihang Copper Nickel Pipe Fitting Co offers the widest range of world class copper nickel pipes, copper nickel flanges and copper nickel pipe fittings.
The company is a leading supplier of BV approved products supplied to all five continents.
For over 20 years, Shanghai Shihang has earned reputation for its bench marked and high quality copper nickel pipes, copper nickel pipe fittings and flanges. The company exports to over thirty countries with a major presence in Europe, Asia, South America and North America. Recognized and approved by the Bureau Veritas, Shihang's has a record of zero complaints from its end users for over 10 years.
All Shihang products are inspected by third parties as required by the end users, with inspecting organizations including BV, SGS, ABS, etc. The company also operates a 0% complaint factory, and issues the EN 102043.1 mill test certificate for each order to ensure all supplied products meet the client requirements.
"We have produced copper nickel pipes, flanges and fittings for 20 years. For cupro nickel products, we are professionals. Each product we make goes through five times routine inspection and random inspection during production," said Kurt Yang of Shanghai Shihang Copper Nickel Pipe Fitting Co. Ltd.
Shihang was formed in Shanghai in 1996, and since then has been a leader in manufacture and supply of Copper Nickel CuNi 90/10 and CuNi 70/30 pipes, flanges and fittings. The company also carries 11 years of overseas experience with export trade beginning in 2007. The company is known as one of the best suppliers in the field of copper nickel products in China, with a strong cost and quality control. The company's reputation rests on its customer values both in local and overseas markets, and for ensuring that it forms a win-win partnership with every client it serves.
For more information, please visit: https://www.shshihang.com
Media contact
Kurt Yang
Shanghai Shihang Copper Nickel Pipe Fitting Co., Ltd.
China
Phone: 0086-13761034866
E-mail: sales(at)shshihang(dot)com