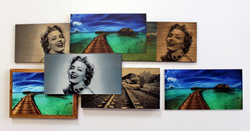 "The Flatbed gives us the opportunity to print on multiple substrates and materials, that's what makes it fun. We are always willing to try a new products to see if we can do it. Then, we get a new item added to our vast array of products we already offer," says OSC's Production Manager, Jamey.
FARGO, N.D. (PRWEB) March 24, 2018
Office Sign Company is now capable of printing High Definition images on multiple substrates. With the purchase of the Canon Oce Arizona Flatbed Printer, a wide variety of items have been added to their product listing.
Office Sign Company (OSC) is a global, e-commerce signage company based out of downtown Fargo, North Dakota. They are manufacturers of custom office signs, name badges, conference room signs, and brushed metal door and room signs. Beyond that, they can create custom signage of various forms for customers, including custom prints with the help of the Flatbed Printer. This Flatbed was purchased to further push their qualifications and diversify their services to customers.
This printer is capable of producing High Definition images on a variety of substrates. One capability, in particular, is its ability to print on Aluminum Composite Material, also known as poly-metal. Aside from metal, it is commonly used to print images on canvas, wood, foam core, and more. It frequently prints on substrates of 3'x3' or smaller, but can print as large as 4'x8' full-sized panels. Pictured at right are a few of the images (on different materials) that this machine has printed. Keep up with more unique product offerings from Office Sign Company by following them on social sites and subscribing to their newsletter.