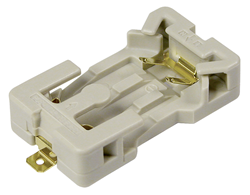 FRAMINGDALE, N.Y. (PRWEB) March 26, 2018
MPD hit a milestone with a sales history of two decades of sales this month for its line of PTE coin cell battery holders. MPD the origional inventors of commercial coin cell battery holders, offer press to eject (PTE) CR2032 lithium coin cell holders. A CR2032 battery is pushed into the coin cell holder and it snaps down into place. To remove the CR2032 battery simply press the plastic tab and the battery pops up. Other styles of coin cell holders can make battery installations and cell replacements difficult or impossible for end users.
CR2032 batteries are extremely popular throughout the world, they offer approximately 220 mAh of power and are quite small, making them perfect for circuits with low power requirements.
PTE holders are designed with extreme reliability in mind. It's contacts have gold flash over hardened nickel and a base metal of stainless steel. This makes it corrosion resistant under all kinds of environmental conditions. Dual pressure contacts have low electrical resistance and offers redundancy, so your connection with the CR2032 is assured. The nylon housing of the battery holder is extremely strong as it's made of glass filled Nylon 66 with the following attributes:

Excellent balance of properties in terms of mechanical behavior.
Superior toughness under standard humidity conditions.
Superior chemical and oil resistance.
Superior anti-abrasion and wear resistance.
Self-extinguishing and flame retardant properties conform with UL standard 94.
Features superior long-term heat resistance (maximum long-term continuous use temperature: approximately 80–150°C).
Reinforced with glass fibers, nylons are particularly outstanding in terms of their elastic modulus and strength.
Features low gasoline permeability and superior gas barrier properties.
Millions of pieces sold and still in use with a sales history of two decades of sales this month.
Type P/N
Surface Mount BA2032SM
Through Hole BA2032