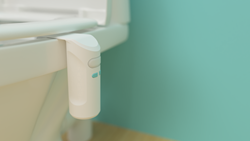 By combining innovative technology and slick, clean design, LooLoo directly addresses the source of the smell issue on the inside of your toilet.
SALT LAKE CITY (PRWEB) March 28, 2018
Today, Utah air care brand LooLoo launched its patent pending automatic toilet freshener. The LooLoo is now available for preorder on the crowdfunding platform Kickstarter.
LooLoo, the world's first automatic toilet freshener, addresses the most common complaint that people have with their toilet: it smells after someone uses it, especially after their No. 2 business.
"You have to admit, none of us likes entering a bathroom after another person has just finished their business," said Taylor Wood, LooLoo Co-founder and inventor. "Lighting a match or spraying an air freshener after use is not only inconvenient, but it's ineffective. They are used after the gnarly stench has permeated throughout the room and into the nostrils. Furthermore, most bathrooms leave it up to the user to attempt to get rid of the nasty. Being a pooping human myself, I created LooLoo to first stop the stench at the source and to automate it so the user can just focus on their business and do what we all do while sitting on the toilet – play on our phones."
By combining innovative technology and slick, clean design, LooLoo directly addresses the source of the smell issue on the inside of your toilet. Using infrared technology to sense the heat of the body as a user is sitting down on the toilet, LooLoo sprays its thin film of proprietary essential oils on the water. The fragrance blend not only traps the odor under the water, but also counteracts the odor by absorbing all smelly nitrate molecules – and accomplishes all of this both before the user does their business and without the user having to do a thing.
"LooLoo also comes equipped with LED lights that softly illuminate the toilet bowl, with a choice of nine colors, when you make those late-night journeys, so there's no more blinding yourself with a bright light during those 2-AM trips to the bathroom," Wood said.
LooLoo was created with a very clear and simple vision of automatically freshening everyone's life—in the bathroom. With LooLoo, no one has to ever touch a dirty deodorizer again, and without even lifting a finger, LooLoo works its magic leaving the bathroom smelling better than when they arrived.
For more information and to purchase LooLoo at early-bird discounts during crowdfunding, visit the LooLoo Campaign Page on Kickstarter.
About LooLoo
LooLoo is a product of Homemation LLC, a Salt Lake City-based innovation company. Taylor Wood, the co-founder and inventor of LooLoo, was previously with Deloitte Consulting- Strategy & Operations, where he worked with an array of fortune 500 companies. Bryce Johnson, a co-founder of LooLoo, previously was CEO of Zarbee's Naturals, where he helped build the Number-1 pediatrician-recommended cough syrup. LooLoo not only cares about freshening toilets, but also about improving the world's sanitation. For that reason, a portion of the company's revenues are dedicated to solving sanitation problems in developing countries. For more information, visit https://looloo.us/.