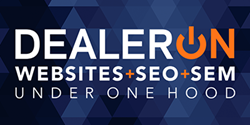 DealerOn and Gubagoo both believe in partnering with the best technology companies in our space, and rapidly delivering innovations from that partnership.
ROCKVILLE, Md. (PRWEB) March 24, 2018
DealerOn, the website provider to 17 OEMs and growing dealership website programs, and Gubagoo, the leading provider in omni-channel engagement and communication solutions for automobile dealerships, today announced a broad technology integration partnership designed to unlock new value for current & future joint customers of the two companies.
The first joint solution offered by the two companies makes it easy for dealers using DealerOn's award-winning website platform to seamlessly post vehicle inventory on Facebook Marketplace via Gubagoo Live's communication and engagement platform.
Facebook Marketplace is one of the fastest growing hubs for shopping for vehicles online, and Gubagoo Live provides a unified integration with unique best practices between dealers' Facebook Marketplace vehicle listings, Facebook Messenger, and dealers' chat-enabled DealerOn website.
"DealerOn and Gubagoo both believe in partnering with the best technology companies in our space, and rapidly delivering innovations from that partnership," said Ali Amirrezvani, DealerOn CEO and co-founder. "Gubagoo is the best chat service out there, and we're excited to bring them to our dealers."
Look for more announcements and releases coming soon including:

Enhancing the chat experience with more relevant vehicle enhanced information when greeters dynamically engage first time visitors vs repeat visitors.
Attribution reporting across all channels and the customer journey.
Integrating chat engagement and paid search among other digital marketing campaigns.
"Gubagoo shares DealerOn's commitment to deliver dealers, OEMs, and online shoppers alike with the most advanced and integrated shopping experience available," said Brad Title, president and CEO of Gubagoo. "By bringing our technologies closer together, we ensure vehicle shoppers receive a rich shopping experience while dealers experience an increase in engagement and lead conversion.
This integration is available as part of DealerOn's engagement solution being offered to existing and new customers, with a special promotion for those attending the 2018 NADA show in Las Vegas.
About DealerOn
DealerOn, Inc is a premier website & digital marketing company for auto dealerships, founded in 2004. The company has become known for two things: excellent, personalized customer service and their Lead Guarantee program, which guarantees dealerships a lead increase by at least 50% no matter their current provider. Since its inception in 2009, the Lead Guarantee has shown an average increase of 200% website lead volume for dealerships. DealerOn has also consistently won awards from Driving Sales, Digital Dealer, AWA, and Dealer Marketing Magazine. Despite being on an upward path for over a decade, DealerOn believes in keeping things small and local to get the best results.
About Gubagoo
Gubagoo is the leading provider of advanced automotive dealer communication solutions that connect consumers to dealers anytime and anywhere through live chat, text, video, Facebook Messenger and Marketplace. Gubagoo is the first dealership website solution that successfully makes anonymous traffic identifiable, and converts the 95% of dealer site traffic that traditionally defects. With greater insight into consumer behavior and interests, Gubagoo can respond to consumers with the right offer at the right time, improving the consumer experience and maximizing lead conversion.
Approximately 3,000 dealerships, including some of the nation's largest dealer groups, as well as OEM-certified programs, are using Gubagoo's omni-channel communication platform to take their customer experience to the next level.