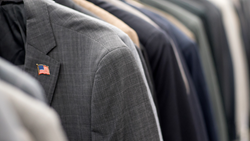 Lone Tree, CO (PRWEB) March 24, 2018
Public Service Credit Union (PSCU) is inviting current and former servicemen and servicewomen to stop by their Suits for Soldiers event on March 29 & 30.
This is the second year the Colorado credit union is hosting the two-day event at their Lone Tree office, offering current and former servicemen and servicewomen free business attire. This year, PSCU is partnering with Arc Thrift Stores, Farmers Insurance, No Barriers Warriors, Martinizing Dry Cleaning, and Sport Clips to provide even more resources for military personnel transitioning into the civilian workforce.
"Our Suits for Soldiers event is truly inspiring," said Malcolm Johnson, PSCU's Director of Public Relations and Community Involvement. "Our communities and local business are not only donating thousands of clothing items but also providing résumé writing advice, mock interview coaching, and coupons for free dry cleaning and haircuts. And for those currently searching for a new job, PSCU and other employers will also be recruiting on site."
New and gently used men's and women's suits, professional attire, and accessories were donated at all 29 PSCU locations from Colorado Springs to Fort Collins. Visit the PSCU website at http://pscu.org/suits-for-soldiers to get further details.
SUITS FOR SOLDIERS EVENT
Thursday, March 29 & Friday, March 30
10:00 a.m. – 7:00 p.m.
PSCU HQ Community Room, 10000 Park Meadows Drive, Lone Tree, CO 80124
Calling All Current and Former Servicemen & Servicewomen

Business suits, shirts, shoes, and accessories for men and women.
Free dry cleaning coupon provided by Martinizing Dry Cleaning, 6265 E. Evans Ave., Denver.
Free hair cut coupons provided by Sport Clips of Lone Tree.
Résumé writing advice.
Interview coaching, mock interviews, and performance feedback.
Real job interviews — PSCU and other local businesses will be looking to fill positions on site.
About Public Service Credit Union (http://pscu.org)
Public Service Credit Union (PSCU) has been safe, secure, and insured for the past 80 years. Today, PSCU holds assets of $2.3 billion and has more than 230,000 members. PSCU provides a full array of financial products and services, including savings, checking, loans, mortgages, and online and mobile banking options. Members can access their accounts and conduct transactions at PSCU's 28 branches, and at over 200 shared branch locations throughout Colorado. In addition, through the credit union's partnership with the CO-OP network, members have surcharge-free access to more than 30,000 ATMs across the country.
Contact Information
Media Contact: Jason Feddeler, Director of Creative Services
Company Name: Public Service Credit Union
Email Address: jasonf(at)pscu(dot)org