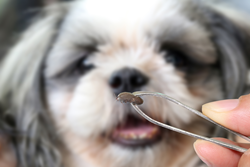 Regular grooming will help you stay ahead of parasite problems, but you must repeat the routine frequently.
WILTON, Conn. (PRWEB) March 25, 2018
Flea and tick season is starting early this year for much of the northeastern U.S., despite the March snow. An unseasonably warm February allowed more of the problem parasites to survive, and pest control experts are predicting 2018 will see a bumper crop.
Pet parents need to act now to protect their pets from tick- and flea- borne illnesses, says Traci Simo of at-home pet care services provider Canine Company. "Regular use of a parasite control product is essential. If you haven't been applying a control product to your pet year round, don't wait to start. Prevention is the best way to keep pets healthy."
Another smart way to monitor and manage parasites is with a bi-weekly grooming. "Fleas and ticks are easier to see when you brush or bathe your pet." She recommends starting with a thorough brushing – preferably on the patio so parasites are left outdoors. "As you work, feel for bumps on your dog's skin that might be ticks and carefully dislodge them with a tick remover. Clean the area with an antiseptic."
"If you see small fast-moving dark specks, your pet has fleas and may need the professional help of a groomer or vet," she notes. "In addition to a flea treatment for your dog, you'll need to deep clean all carpets, couches and bedding your dog has used. It may take multiple treatments for both your dog and home to get rid of all the eggs and larvae."
Next, bathe the dog using warm, not hot, water. It's often easier to see these parasites while the coat is wet, so it's a good to examine again for signs of fleas or ticks. Once the coat has dried completely, apply a flea and tick treatment like Frontline or Sentry Natural Defense, following label instructions. Treatments should be repeated monthly to prevent flea infestations, Lyme disease and other parasite-born illnesses.
"Regular grooming will help you stay ahead of parasite problems," says Simo "but to be effective, you must repeat the routine frequently. If you don't want to deal with parasites yourself, a professional groomer, like our Mobile Pet Spa specialists, can help."
About Canine Company
Born of a family's love for dogs, Canine Company has been helping families keep their dogs and cats healthy, safe and happy for 35 years. The company serves pet parents across New England, New York and New Jersey with the Invisible Fence® brand, Manners dog obedience training, and mobile grooming and pet sitting in select markets. Its charitable Canine Love™ campaign supports pet rescue organizations and donates pet oxygen masks to first responders. For information, call 800-818-3647 or visit http://www.caninecompany.com.