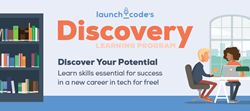 "Learning to code is becoming a critical 21st century skill and the opportunity to gain these skills hasn't always been broadly available. Discovery is here to challenge that."
ST. LOUIS (PRWEB) March 26, 2018
LaunchCode, a national nonprofit focused on creating pathways to careers in technology, has announced the Discovery program, made possible by a partnership with Facebook's Community Boost initiative. Discovery is an innovative digital literacy program that will be available for free on St. Louis Public Library computers beginning Monday, March 26, 2018.
The Discovery curriculum was developed by LaunchCode to introduce users to computer programming and help them build the fundamental skills necessary to pursue a career in the tech industry. The online course is self-paced and supported by participant meetups, to be held weekly at select St. Louis Public Library locations and led by mentors. With Discovery, LaunchCode aims to break down barriers to careers in technology for St. Louisans by bringing education pathways directly to their communities.
Individuals who successfully complete the Discovery curriculum by June 15, 2018 will receive priority application consideration to LC101, LaunchCode's free 20-week course designed to prepare participants to become web developers.
"Discovery was created as a way for LaunchCode to reach even more individuals experiencing roadblocks in their path to a sustainable tech job," said LaunchCode Executive Director Jeff Mazur. "Learning to code is becoming a critical 21st century skill and the opportunity to gain these skills hasn't always been broadly available. Discovery is here to challenge that."
"The St. Louis Public Library is used by thousands of St. Louisans every day working to overcome the digital divide and be part of the tech world growing around them. Working with LaunchCode gives the Library a real, practical pathway to tech learning and jobs to offer to our patrons who have the interest and are willing to put in the effort. That is a huge opportunity, and we believe that working together we can benefit individuals, businesses, and St. Louis," said Waller McGuire, St. Louis Public Library Executive Director.
In November 2017, Facebook announced Community Boost, a new program to help small businesses grow and to equip more people with the digital skills they need to compete in the new economy. Facebook announced St. Louis as the first of 30 cities they visit during the program.
To learn more about the Discovery program, visit http://www.launchcode.org/discovery.
About LaunchCode
Founded by Jim McKelvey, co-founder of Square, LaunchCode creates pathways to economic opportunity through free education, apprenticeships and job placement by matching driven, qualified learners with employers experiencing a shortage of diverse tech talent. To learn more, visit http://www.launchcode.org.
About St. Louis Public Library
St. Louis Public Library has 16 locations across the city and sees more than 2.3 million visitors each year. The Library has more than 4 million books and items in its collection, over 83,000 Library cardholders and provides high-speed wireless internet access to nearly 2 million people each year. SLPL's extensive digital resources include computer access, Wi-Fi hotspots, computer classes, online learning resources and access to the Creative Experience at Central Library, a digital makerspace lab. SLPL provides learning resources and information services that support and improve individuals, family and community life. For more information about St. Louis Public Library and its services, visit http://www.slpl.org.
About Facebook
Founded in 2004, Facebook's mission is to give people the power to build community and bring the world closer together. People use Facebook to stay connected with friends and family, to discover what's going on in the world, and to share and express what matters to them. Facebook is a trademark of Facebook, Inc.