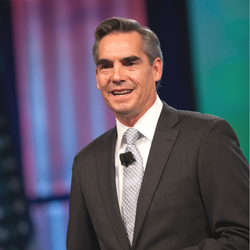 Representing our professionals in the life insurance community has been the finest honor of my career.
RESTON, VA (PRWEB) March 23, 2018
AALU announced on Thursday that CEO David Stertzer will transition to an advisory role with the association, and that current COO Marc Cadin has been chosen to succeed Stertzer as CEO beginning September 1, 2018. Stertzer and Cadin will continue to work closely together through September. AALU is the leading voice in the United States for the nation's top life insurance professionals.
"It has been a great privilege to serve this industry and work with so many outstanding leaders for the past 33 years," Stertzer said. "I am so thankful to our members, and very proud of the work we do to help preserve and protect the financial security of American families and businesses. Representing our professionals in the life insurance community has been the finest honor of my career, but AALU is stronger than ever and ready for fresh leadership to take us to the next level." Stertzer has been the senior executive leader at AALU for 33 years. During his tenure, AALU grew to become one of the most respected financial services trade associations. Stertzer leaves AALU in a position of great strength, having presided over a 13 percent compounded growth in annual revenues, 60 percent growth in membership, and an over 500 percent increase in operational reserves.
Stertzer has worked with 17 Congresses and six White House administrations, which has elevated AALU as a political and policy force on Capitol Hill. Stertzer established innovative programs such as IMPACT, the AALU Ambassadors program (formerly Legislative Circle), and the Issues Alliance partnership, all of which helped AALU manage successful policy outcomes in the areas of inside buildup, business uses of life insurance, the estate tax, tax reform, and deferred compensation and retirement savings.
One of Stertzer's most enduring legacies will be his tenacious commitment to aligning a fragmented industry under one message for the good of the professionals and clients they serve. This will remain AALU's focus for the future.
"On behalf of the AALU Board of Directors, I want to thank David for his steadfast leadership over three decades," said current AALU President Rich DeVita. "He has been a strong advocate for our members, the families and businesses we serve, and the companies who make the products we use to protect people's financial futures."
The Board will promote 18-year AALU veteran and current COO Marc Cadin to CEO, effective September 1, 2018.
"Our challenge lies in adapting to a changing business and advocacy environment while keeping AALU's core commitment to our key members and markets. David Stertzer did an excellent job these last 33 years, and with Marc Cadin succeeding him as CEO, we won't miss a step." said David Byers, AALU President-Elect. "One of the board's key priorities is leadership development, and I am grateful to David.
Stertzer, Rich DeVita, and our past presidents for providing us with an experienced in-house veteran who knows our businesses, shares our values, and is ready to lead from day one."
Cadin will join the AALU Board as a Director in an ex officio capacity commensurate with his appointment as CEO in September. At the board's direction, Cadin is leading a strategic planning process centered around membership growth and value. Members will hear more information about this process at the 2018 AALU Annual Meeting in Washington, D.C. April 29 – May 1. More information on the Annual Meeting can be found at http://www.AALU2018.org.
"I'm very fortunate to have the opportunity to build on David Stertzer's legacy" said Cadin. "I could not have had a better mentor. I not only learned this business from him, but learned how to be an effective leader by working with him for 18 years. I believe in this profession and the value we create, and I am looking forward to fulfilling the board's vision for our future."
About AALU
For over 60 years, AALU has been the most trusted, influential voice for financial professionals and the life insurance community in Washington, DC. With a singular focus on the issues impacting life insurance products, professionals, and families and businesses who use their products and services to protect the things they love, AALU has a heritage of leadership and success. AALU provides its members with essential tools and services required to help grow their businesses, serve clients well, and protect the life insurance profession.
AALU members build strong, personal relationships with key Congressional leaders, network with the most successful professionals in the life insurance markets, and learn from peers and recognized experts. Additional information about AALU can be found at http://www.aalu.org.