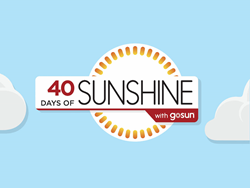 Hurricanes, floods and fires all tell us that we need to move to Solar Energy.
CINCINATTI (PRWEB) March 27, 2018
To commemorate his 40th trip around the Sun, GoSun's founder, Patrick Sherwin, has been traveling the USA, eating only solar cooked food for 40 days. Since February 16th and now ending March 27th, this record-breaking trip will revolve around GoSun's users, technology and adventure. Join Patrick, rain or shine, through daily video blogs as he documents the people, places and meals that make up the fuel-free frontier.
Kicking off the social experiment, Sherwin asks, "Is it possible to thrive on solar cooked meals during a Midwest winter? What if the Sun doesn't shine for days? Will there be side effects, good or bad, to all that solar cooking?"
As Inventor and Social Entrepreneur, Patrick, is not afraid of taking a chance, trying something never done before and adapting to the hardline realities. For 40 days, his diet will subsist of foods that have only been solar cooked; so no raw fruit or veggies, no salad, no snacks and no nourishing drinks.
During the adventure, Patrick has met with friends, family and experts to explore more about powering the good life with solar energy. Experiences have ranged from foraging for food, to envisioning the future and from backpacking in the Smokies, to sailing the Caribbean. One thing is sure, GoSun's technology will be put to the test as it keeps up with Patrick's appetite for experiences, food and freedom.
In addition to pushing his own limits, Patrick will be field testing several of GoSun's latest products to be sure they can keep up with real life demands. He will be carrying the all new, GoSun Go, which becomes available this spring, and using it to boil water and prepare meals on the go.
About GoSun:
GoSun is committed to making breakthrough solar devices to fuel the good life in the U.S. and around the world. GoSun's products are designed to stop burning fossil fuels, thus utilizing clean energy from the sun to promote resilience and healthy living.
In a recent statement, Patrick Sherwin, GoSun's Founder said, "Hurricanes, floods and fires all tell us that we need to move to Solar Energy."
GoSun solar ovens incorporate a proprietary vacuum tube technology that allows for fast, portable, simple, safe and clean cooking. In addition, the vacuum tube doubles as an insulator, keeping the food hot even with clouds, or in the freezing cold. A wide range of GoSun's cookers are available at http://www.GoSunStove.com at prices from $139 to $799.