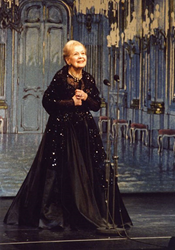 NEW YORK (PRWEB) March 24, 2018
Patria Productions is proud to announce that the critically acclaimed dual CD album from 2005, Marta Eggerth, My Life My Song, is now available to view on YouTube. Each song clip is accompanied by historical photos, most never seen before. With this CD, Marta Eggerth's (1912-2013) recorded legacy as one of the world's leading sopranos showcases an international singing career spanning more than 70 years in operetta, film, lieder and opera. It is now available on YouTube for generations of opera aficionados, singers, film buffs, and others to learn from and enjoy.
Marta Eggerth, who passed away at the age of 101 on December 26, 2013, had one of the longest performing careers on record that started when she was 10 years old in 1922, lasting more than 90 years. She remained an active performer singing to enthusiastic audiences until the age of 100. Marta Eggerth and her husband, the celebrated Polish tenor Jan Kiepura, were among the first "crossover" artists singing at a time when the term did not exist.
Marta Eggerth was born in Hungary on April 17, 1912. In 1936, she married Jan Kiepura with whom she sang more than 2000 performances of Franz Lehár's The Merry Widow in five languages and other operettas. Some of the 20th century's most celebrated composers wrote works especially for her including Lehár, Robert Stolz and Paul Abraham.
The selections included in the sound clips from Marta Eggerth, My Life My Song include works from the early 1930s up to 2002, sung at the age of 90.
Marta Eggerth, My Life My Song, CD 1 – 5 includes her early opera recordings of Puccini, Bellini and Rossini, as well as her first opera recordings of arias from La bohème, which she sang both on stage and film. This disc is also dedicated to her many songs made famous by some 41 European movies which she made mostly prior to World War II.
Marta Eggerth, My Life My Song, CD 2 – features recordings from 1955-2002 of her favorite repertoire including her own arrangements of medleys from Lehár's The Merry Widow, Emmerich Kálmán's Princess Czardas, and songs by Robert Stolz, Fritz Kreisler and John Kander and Fred Ebb's Married from the Broadway hit musical Cabaret. Also included are Hungarian selections, lieder from Ravel and Chopin, as well as a duet with Jan Kiepura.
Marjan Kiepura, Marta Eggerth and Jan Kiepura's son stated, "When my wife Jane and I named my mother's album "Marta Eggerth, My Life My Song" it reflected the 90 years of her life on stage and screen and the art she gave the world, in six languages. Her last public appearance was at the age of 100 and she passed away at 101."
Marta Eggerth, My Life My Song, from 2005, was a project that was a long time in the making. The project was headed by Jane Knox, Marta Eggerth's daughter-in-law and the Executive Producer and a Co-Founder of Patria Productions, Inc., along with her husband Marjan Kiepura. The project involved compiling recordings spanning more than 70 years. Family collections were searched and evaluated as well as working with collectors throughout the world.
View these new videos with commentary from Marta Eggerth at http://www.patriamusic.com