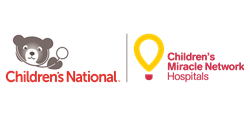 WASHINGTON (PRWEB) March 22, 2018
Chepe and Patricia of local Spanish language station El Zol 107.9 were honored with the "Hispanic Radio Persons of the Year" award for their leadership in raising more than $570,000 from their community of listeners for Children's National Health System during the station's 2017 radiothon. The award was presented March 9 at Children's Miracle Network Hospitals' annual conference and awards ceremony in Orlando. El Zol 107.9 is a part of Entercom, a leading media and entertainment company.
El Zol 107.9 has hosted a radiothon benefitting Children's National each December since 2007. Chepe and Patricia have led this annual effort since 2014, helping to raise more than $2.4 million for patients and families at Children's National, the greater Washington region's pediatric hospital.
"We are humbled to be recognized for doing something that means so much to our station and our community and are proud to partner with Children's National," said Steve Swenson, Senior Vice President, Market Manager, Entercom Washington D.C. "Our entire staff commits to two 13-hour days to achieve this incredible fundraising for the families at Children's National. We share this with our team, our community, and most of all, the kids at Children's National."
Chepe and Patricia were chosen over nominees submitted from the 170 hospitals in the U.S. and Canada affiliated with Children's Miracle Network Hospitals—recognizing their special talent for knowing exactly what to say to compel listeners to call in to donate. Their passion, enthusiasm, and sense of urgency resonates with listeners, and translates to successful fundraising to help ensure that every child from every background and walk of life can receive world-class care at Children's National, regardless of insurance or ability to pay.
"Our team at Children's National is incredibly honored to work with Chepe and Patricia," said Tracy Jones, Director, Children's Miracle Network Hospitals at Children's National. "Their passion and dedication to our mission inspires their listeners and helps raise critical funds, so we can provide care for every child across the greater Washington region. We are proud of all they have accomplished and delighted that their remarkable efforts have received much deserved national recognition."
About Children's National
Children's National Health System, based in Washington, D.C., has been serving the nation's children since 1870. Children's National is #1 for babies and ranked in every specialty evaluated by U.S. News & World Report including the top 10 for Cancer (#7), Neurology and Neurosurgery (#9), Orthopedics (#9), and Nephrology (#10). Children's National has been designated two times as a Magnet® hospital, a designation given to hospitals that demonstrate the highest standards of nursing and patient care delivery. This pediatric academic health system offers expert care through a convenient, community-based primary care network and specialty outpatient centers. Home to the Children's Research Institute and the Sheikh Zayed Institute for Pediatric Surgical Innovation, Children's National is one of the nation's top NIH-funded pediatric institutions. Children's National is recognized for its expertise and innovation in pediatric care and as a strong voice for children through advocacy at the local, regional and national levels. For more information, visit http://www.childrensnational.org.
About Children's Miracle Network Hospitals
Children's Miracle Network Hospitals® raises funds and awareness for 170 member hospitals that provide 32 million treatments each year to kids across the U.S. and Canada. Donations stay local to fund critical treatments and healthcare services, pediatric medical equipment and charitable care. Since 1983, Children's Miracle Network Hospitals has raised more than $5 billion, most of it $1 at a time through the charity's Miracle Balloon icon. Its various fundraising partners and programs support the nonprofit's mission to save and improve the lives of as many children as possible. Find out why children's hospitals need community support, and learn about your member hospital, at CMNHospitals.org and facebook.com/CMNHospitals.
About Entercom Communications Corp.
Entercom Communications Corp. (NYSE: ETM) is a leading American media and entertainment company reaching and engaging over 100 million people each week through its premier collection of highly rated, award winning radio stations, digital platforms and live events. As one of the country's two largest radio broadcasters, Entercom offers integrated marketing solutions and delivers the power of local connection on a national scale with coverage of close to 90% of persons 12+ in the top 50 markets. Entercom is the #1 creator of live, original, local audio content and the nation's unrivaled leader in news and sports radio. Learn more about Philadelphia-based Entercom at http://www.entercom.com, Facebook and Twitter (@Entercom).