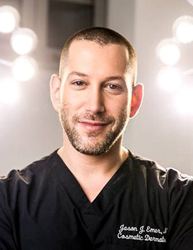 "I look forward to not only to giving my presentation but also participating with and hearing from doctors in other disciplines of the aesthetic medical field," said Dr. Emer
BEVERLY HILLS, Calif. (PRWEB) March 23, 2018
Los Angeles will be the site of the LA-MCA (Los Angeles Multi-Specialty Cosmetic Academy) 2018 Meeting the weekend of March 22-25, 2018. Held at the luxurious Four Seasons Hotel in Beverly Hills, the event brings together widely-acclaimed and highly-sought-after aesthetic surgeons to provide lectures and training on the latest in patient care, techniques, technologies, and strategies to help doctors build more astute cosmetic practices. One of the featured speakers is cosmetic dermatologist and body contouring specialist Dr. Jason Emer, renowned for his commitment to astounding innovation, artistry, compassion, and client care.
"I'm truly honored to be among the featured speakers at this year's LA-MCA," says Dr. Emer. "It's a massive opportunity to give back to the industry that has provided me with the inspiration and vision to make sure that aesthetic surgery and cosmetic dermatology continue to provide our clients with the care and attention they deserve as they aim to look their best. The LA-MCA is designed to be a collegial environment focused on the education and best practices that will push the industry safely and creatively forward as we continue striving to deliver excellent outcomes for our clients."
Dr. Emer will speak about High Definition Body Liposuction on Saturday, March 24 at 3:00 pm, as part of the Facelifting, Fat Grafting, & Lipocontouring Forum moderated by Dr. Joseph Niamtu III. Dr. Emer is considered one of the world's foremost experts on High Definition Body Liposuction. Advanced medical technologies, such as ultrasound, laser, and radiofrequency (RF) heating, combined with a one-of-a-kind inventive and visionary approach allow Dr. Emer to do what others cannot. If skin removal, body sculpting, muscular implants, or breast gland removal are needed, his surgical team works together to ensure a full body transformation in the safest way possible.
"We call it 4D Hi-Def Liposculpture, and it's not traditional liposuction," Dr. Emer says, "as we can do more than merely remove fat. We can actually reshape and sculpt the body by tightening the skin, contouring the musculature, and eliminating cellulite. If skin removal, body lifting or muscular implants are needed to build shape and definition, my surgical team works together to transform a client's body. No two procedures are alike, as it can be tailored to match the individual goals of each client. Why be great when you can be exceptional?"
Dr. Emer's presentation fits in with the event's goals of teaching safe, effective surgical and non-surgical practices that integrate cutting-edge technology, out-of-the-box innovation, and state-of-the-art devices. Furthermore, the 4-day event will include educational business sessions with industry business experts designed to help doctors with marketing and private practice management. To find more about Dr. Jason Emer and his practice, visit http://JasonEmerMD.com.
To see more about LA-MCA 2018, including a detailed explanation of the scheduled program, please visit http://CosmeticAcademyMeeting.org/.
"I look forward to not only to giving my presentation but also participating with and hearing from doctors in other disciplines of the aesthetic medical field," Dr. Emer says, "including facial plastic surgery, plastic surgery, and oculoplastic surgery. And with all the various PAs, nurses, nurse practitioners, and Medi-Spa specialists gathered under the same roof, as well, it should be a fantastic four days of teaching, learning, and networking. This is a great opportunity for all of us!"
Dr. Emer on Social Media:
Facebook @JasonEmerMD
Snapchat @JasonEmerMD
Instagram @JasonEmerMD
Twitter @JasonEmerMD
Also, visit his website http://JasonEmerMD.com/ for more information on the most advanced treatments in cosmetic dermatology and body sculpting.
For Reviews: Realself.com & Yelp.com
Contact: Media(at)JasonEmerMD(dot)com
More Information on Dr. Jason Emer:
Dr. Jason Emer is a board certified and fellowship-trained cosmetic, laser, and procedural dermatologist, who specializes in surgical and nonsurgical body contouring, hi definition body sculpting and etching, fat transfer, cellulite reduction and skin tightening.
He is one of a select few surgeons in the United States to perform hi definition body contouring/etching in which he precisely and meticulously defines target areas to not only remove fat but also contour and define the muscle and body shape. He uses this technique to "etch" six-packs and create highly defined musculature such as the chest, buttock, breast, and calves. Harvested fat can be transferred to other areas to address concerns such as facial wrinkles and lack of volume, hand veins and aging, buttock and breast size and lifting, and the muscular size and bulk of the chest, biceps, calves, shoulders, and quadriceps. Cellulite and skin tightening are also addressed with each individual case and can be improved with a combination of surgery, lasers, fat transfer, and/or external heating/suction devices to get the ultimate results in body contouring procedures.
Dr. Emer is also a leading expert in cosmetic and laser dermatology utilizing the latest advancements in non-invasive laser, radiofrequency and ultrasound treatments for aging. He utilizes combination treatments to get the ultimate results and customizes treatments to the patient's skin type and long-term goals. His interests include acne and traumatic scars, abnormal pigmentation, burns, and anti-aging/rejuvenation combination treatments. Dr. Emer's practice is located in Los Angeles, California.
Visit http://JasonEmerMD.com/ for more.
Jason Emer, MD
9201 Sunset Blvd. Suite 708
West Hollywood, CA 90069
(424) 285-5545
Media(at)JasonEmerMD(dot)com