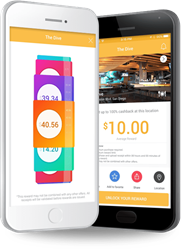 SAN DIEGO (PRWEB) March 23, 2018
GameIQ®, the brains behind Spindy®, is thrilled to announce the company's partnership with The Goods. The deal-delivering duo is combining forces to offer San Diego businesses the ultimate marketing package, while at the same time delivering high-value, fun opportunities to San Diegans.
Starting in March 2018, The Goods will feature Spindy businesses, connecting the people of San Diego with fun opportunities to experience new restaurants, shopping excursions, and activities; and Spindy businesses will get to connect with the 150,000 locals who follow The Goods.
"When I first learned about Spindy's platform and experienced the fun of spinning and getting cash back myself, I immediately thought that this would be a great fit for the audience of The Goods," said Sean Monzet, NBC 7's Director of Integrated Media. "Our goal is to provide San Diegan's with information to help them enjoy America's Finest City to the fullest. The partnership with Spindy helps introduce our audience to new restaurants and local merchants while giving them the opportunity to get cash back on their purchases."
Spindy is an app that allows business owners to connect with their customers using innovative gamification technology that's setting a whole new standard when it comes to marketing. When the consumer makes a purchase at a participating store, they can upload their receipt to the Spindy app for an opportunity to get cash back. The customer spins a wheel, becoming a player invested in the experience – with a chance to receive up to 100% of their purchase.
Balazs Wellisch, CEO of GameIQ noted the customer engagement value of Spindy, "When people get rewards through us, they are celebrating and high-fiving each other. You don't create that experience with punch cards."
Visit http://www.spindyapp.com/thegoods, email marketing(at)spindyapp.com, or call 619-363-4030, to learn more about the partnership.
About The Goods
The Goods is NBC 7 San Diego's audience reward program, connecting local businesses with its audience, including over 150,000 members who subscribe to receive information about weekend events, special offers, and updates on the local dining scene. Each day, members save big with coupons, deals, and the opportunity to receive cash back with Spindy.
About GameIQ
GameIQ is the proud originator of Spindy – the marketing solution that generates ultimate consumer engagement with every spin. Participating businesses experience 100% conversion with each use, and consumers get to spin to get up to 100% of their purchase. This unique gaming experience is fun for customers, and makes an impression that begs to be shared. Become a participating retailer, or download the app at http://www.spindyapp.com.