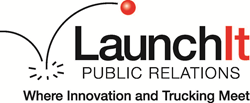 Little did I know in 1993, when I went to work for this new startup company called Qualcomm that was putting GPS systems into trucks, that I would end up starting my own company and making an entire career dedicated to promoting trucking technology
SAN DIEGO (PRWEB) March 23, 2018
LaunchIt Public Relations, a leading provider of public and industry relations services to transportation technology suppliers, has been named a finalist in the 2018 Public Relations and Marketing Excellence Award program by the Business Intelligence Group.
"Little did I know in 1993, when I went to work for this new startup company called Qualcomm that was putting GPS systems into trucks, that I would end up starting my own company and making an entire career dedicated to promoting trucking technology," said Susan Fall, president of LaunchIt. "Trucking plays such a vital role in our country that it's a thrill to help so many companies launch and sustain their products this dynamic sector. I love what I do, so being recognized by the Business Intelligence Group as a finalist for LaunchIt's excellent work is just icing on the cake!"
The 2018 Public Relations and Marketing Excellence Award form the Business Intelligence Group identifies leading agencies that delivered quantifiable business results for their clients. The program, judged by business executives, uses a proprietary and unique scoring system that selectively measures performance across multiple business domains.
"The role of public relations and marketing is increasingly becoming more critical as the volume of innovations, products and distribution points continues to accelerate," said Maria Jimenez, chief nominations officer of the Business Intelligence Group.
About LaunchIt
Since 2000, LaunchIt Inc. has been representing technology companies in their quest to increase visibility of their products and services in the North American transportation industry. Our team of PR, IR and marketing communications experts possess unsurpassed knowledge and insight regarding trucking technology products and services. In 2018 LaunchIt joined the Stryker-Munley Group, a consortium of public relations and marketing professionals with more than 20 years' experience in their respective industries. Ten independently owned offices are strategically located in New York, Memphis, St. Louis, Silicon Valley, Chicago, Los Angeles, Pittsburgh, Denver, San Diego and Sacramento.
For more information, visit http://www.launchitpr.com or http://www.strykermunleygroup.com/sandiego/